Health Supply US (HSUS) is dedicated to transforming the pipeline for America's health care facilities, first responder networks, and Federal, State and Local Governments. The company identifies, sources and delivers safety and medical supplies to frontline workers and those who need them most. HSUS has invested millions of dollars into infrastructure, machinery, equipment, technology and people to meet these goals.
One of its most recent investments is the acquisition of two V-Shapes Alpha single-dose packaging machines and a V-Shapes VS dflex nearline digital printing solution. According to Managing Partner Cesar Garcia, "Our original plan was to contract out the manufacture of single-dose branded sachets of hand sanitizer we could hand out at events and for other uses. But it quickly became evident that it made more sense to actually install the equipment in our North Carolina plant. And once we installed our first Alpha and were on our way to our second, it also became clear that we could easily do on-site printing rather than outsourcing it with the VS dflex printer."
V-Shapes Alpha is a highly automated packaging machine for filling, sealing and die-cutting single-dose sachets in sizes ranging from 40 mm x 50 mm to 85 mm x 100 mm. Brands can choose to use a variety of printing options, from simple one-color coding to high-quality full-color printing on the top and/or bottom of the sachet to promote brand image. Almost any liquid or semi-solid product can be packaged in V-Shapes sachets which can be opened with a single gesture using one hand. This offers a more convenient and hygienic means of distributing products and samples across a wide range of industries, ranging from healthcare to cosmetics and foods in a highly automated fashion and with a compact footprint.
The V-Shapes VS dflex nearline reel-to-reel printer featuring Memjet DuraFlex inkjet printing technology makes it easy to print flexible packaging on site, eliminating the need to outsource printing or to tie up other printing equipment in the plant, especially for shorter runs of customized sachets.
For HSUS, these acquisitions dramatically transformed the design and approval process for single-dose products, making it easier to meet tight customer delivery deadlines and setting the company apart from the competition. Garcia explains, "I have a printing background, and I looked at all the possibilities of being able to show our clients right away what their packaging would look like instead of putting a file together, sending it to an outside printer, having them print a massive run and then coming back and putting it on our Alpha for filling. By using both the Alpha and VS dflex, I am able to do everything on site and on demand; and that saves me about 2.5 weeks at a minimum for each project, dramatically improving our cycle time. Now I can go see a client in the morning; and in the afternoon, I'm printing out sample sachets for them that I can show them the next day!" 
Garcia notes that drying on the film is instantaneous; and the speed at which the VS dflex runs means it can be used for production runs, not just for samples. The flexibility offered by the combination of the V-Shapes Alpha and the VS dflex has also opened up new opportunities for HSUS. Garcia says, "While we were originally looking at packaging sanitizer, we are now also looking at producing various types of creams and lotions. In addition to the need for medical gels that can be conveniently and hygienically dispensed, we also see opportunities for packaging high-end sauces or sampling for cosmetics, as well as products for other industries. It enables us to deliver a complete, end-to-end solution to our clients that goes beyond simply filling the sachets. We can work with our clients on designing their sachets, as well as their secondary packaging. It gives us the ability to offer additional services, better turnaround time and better customization. If we look good, our partners look good. And the V-Shapes solution makes us all look good!"

About V-Shapes
Founded in 2018, V-Shapes is the leading provider of products and services designed to produce and fill single-unit dose packaging that enables product to be dispensed using one hand. Located in Bologna, Italy, V-Shapes manufactures, sells and services innovative vertically integrated systems for single-dose packaging that minimize waste, shorten time to market, offer a more sustainable packaging solution and are a unique and safe means for consumers to dispense single-unit measures of liquid and powdered products. The company partners with packaging converters/fillers around the globe to offer these unique services to brands in a wide range of industries, from food and cosmetics to hand sanitizer and industrial products that are efficiently served up in single-unit doses, producing packaging on demand in small or large quantities.
Image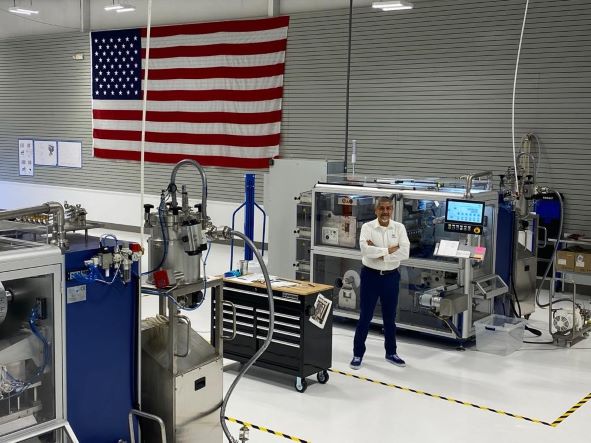 Contact Person
Jesper Gustavsson
Email
jesper.gustavsson@v-shapes.com