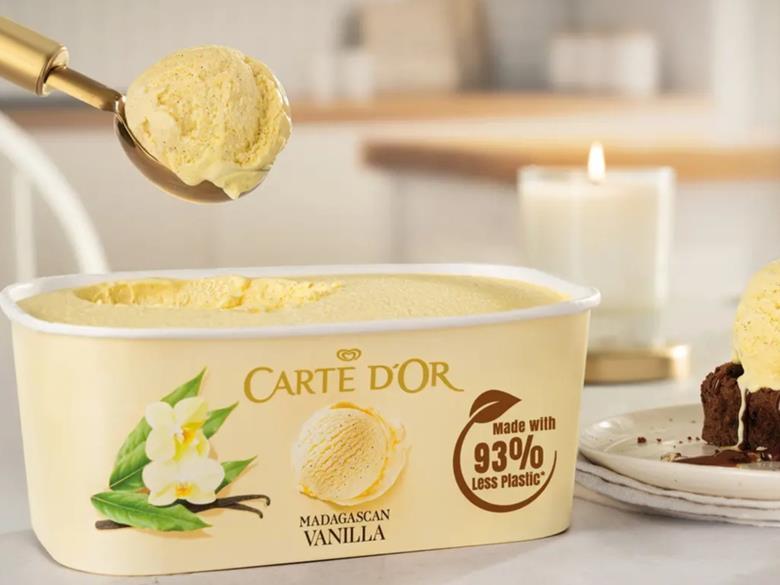 According to Unilever, the move will see the brand use 93% less plastic per pack compared to the previous Carte D'Or packaging, corresponding to annual savings of around 900 tonnes of virgin plastic.
The paper used in the tub and lid is reportedly sustainably sourced and is PEFC (Programme for the Endorsement of Forest Certification) approved. Unilever adds that the tub and lid can be rinsed and then put into normal household paper recycling streams.
Unilever explains that the paper tubs will contain a plastic inner layer to ensure the ice cream remains fresh without any impact on taste and quality, and to provide a durable and sturdy pack in shops and in consumers' homes. The company claims that the plastic used in the inner layer and lid does not affect its ability to be recycled at home.
In addition, the new packaging has a plastic seal, which the company says is also required to ensure freshness and secure the pack. The seal is non-recyclable and will need to be removed before the tub and lid can be recycled. Unilever says it is working on a fully recyclable solution for the ice cream tub in the future.
The new Carte D'Or paper packaging will feature a "fresh, new design" to mark the transition, which includes illustrations of the ice cream's core ingredients.
Horacio Cal, ice cream marketing director for Unilever in the UK and Ireland, comments: "For over 40 years, Carte D'Or has been committed to crafting delicious desserts made with some of the finest quality ingredients, which we strive to source in a sustainable way.
"Now, we're proud to have made this move to paper tubs, helping shoppers to reduce their plastic packaging footprint at home."
The new Carte D'Or paper tubs and lids were first launched in January 2022 in the UK and are now being rolled out across the country.
By 2025, Unilever has pledged to half the amount of virgin plastic used in its packaging and achieve an absolute reduction of more than 100,000 tonnes in plastic use.
Unilever is part of the Pulpex consortium, which has developed a paper-based bottle with a proprietary, spray-on coating that can repel water. The company plans to launch a paper-based laundry detergent bottle for its OMO brand (also known as Persil, Skip and Breeze) using the Pulpex technology, with the initial debut in Brazil in early 2022 followed by a wider rollout in Europe and other countries.