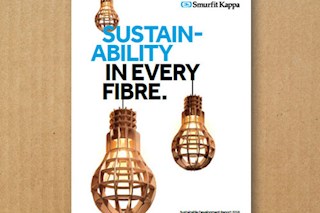 The packaging leader reached a number of key milestones throughout 2018 including the launch of its Better Planet Packaging initiative which seeks to reduce packaging waste by creating more sustainable packaging solutions through design, innovation and recycling capabilities. The initiative sparked a huge amount of interest from customers keen to replace non-recyclable materials with paper-based packaging.
An ambitious new set of sustainability goals was unveiled having met or exceeded previous targets ahead of their 2020 deadline. Smurfit Kappa has had a long-term commitment to making real and measurable progress against its five strategic sustainability priorities of forest, climate change, water, waste and people.
While Smurfit Kappa's paper-based packaging is renewable and recyclable, the paper production process itself is energy intensive. Good progress was made again on its target for climate change with the company reporting a relative reduction in fossil CO2 emissions by 29% compared to its baseline year, 2005. Smurfit Kappa has focused on energy efficiency and the use of renewable sources of fuel such as biomass, where feasible.
The report also contains several stories from communities which Smurfit Kappa is supporting to contribute to their economic and social development. The aim is to keep generating wellbeing and improvement in areas vital for the future, such as education and income generation.
Other highlights in the report include Smurfit Kappa's continued listing on the FTSE4Good, Euronext Vigeo Europe 120, STOXX Global ESG Leaders and Ethibel's sustainable investment register.
Tony Smurfit, Group CEO, said: "Today's report outlines the progress that Smurfit Kappa continues to make in sustainability. As leaders in sustainable packaging, we have a responsibility to address the challenges that face the environment and society today."