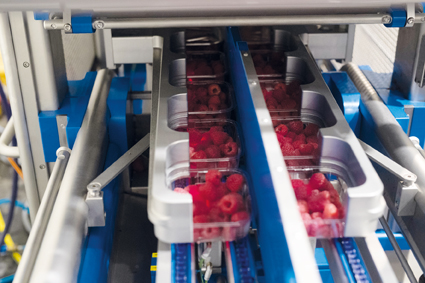 Press Packagingconnections
The company is clearly feeling the growing berry trend. As of this season, Baumann has been delivering the fresh fruits in packaging trays made from resource-saving rPET. Instead of a snap-on lid, they are closed with a thin, peelable sealing film. The farm bought a Sealpac A6 traysealer for this purpose. Annika Baumann, Managing Director of Baumann Vertriebs GmbH & Co, benefited from comprehensive advice from Sealpac GmbH when choosing the right solution - and even opened up a new business area for her company. Together with Jochen Paraquin, Area Sales Manager, and Stefan Dangel, When choosing the right solution, he benefited from the comprehensive advice provided by Sealpac GmbH - and even opened up a new business area for their company. Together with Jochen Paraquin, Area Sales Manager, and Stefan Dangel, When choosing the right solution, he benefited from the comprehensive advice provided by Sealpac GmbH - and even opened up a new business area for their company. Together with Jochen Paraquin, Area Sales Manager, and Stefan Dangel, Marketing and sales management Sealpac GmbH, she tells about the conversion of her company to automated tray sealing.
Baumann Vertriebs GmbH & Co. specializes in the cultivation of blackberries, raspberries and blueberries, among other things. How important are these on consumers' menus?
Annika Baumann: The consumption of fresh berries is growing worldwide and with it the market volume: In Germany, sales at consumer prices in 2019 were up to around 1.4 billion euros - an increase of 20 percent compared to the previous year [1]. There are certainly several reasons for this: People's eating habits are changing, among other things due to greater health awareness. More and more consumers are paying attention to a balanced menu, which also includes a healthy breakfast. Our vitamin-rich, versatile blackberries, raspberries and blueberries go perfectly with this. In addition, more money is now being spent on food in Germany. Fresh berries are now available in our markets from January to December. This makes them familiar to consumers who habitually add them to their shopping lists. And finally, fresh berries are wonderfully suitable as a healthy snack between meals and thus also fit in with the to-go habits of many consumers. In the food retail sector, our products can no longer only be found in the fruit and vegetable department, but also on convenience shelves. This ensures impulse purchases.
How has the berry business developed at Baumann?
FROM:Our company entered the berry business in 1995 with blueberries in the form of pot cultures. Later on we also took in bush berries and really started off with raspberries. Today we supply food retailers all over Germany with raspberries, blackberries, a smaller proportion of blueberries and strawberries. But we also deliver asparagus to food retailers in Germany, Austria and Switzerland. In 2012 we invested in foil houses in which either three rows of raspberries or blackberries are grown. In total we cultivate around 45 hectares of raspberries and blackberries, the cultivation of which is similar. They are mainly kept in substrate pots. The tunnels, together with the sophisticated drip irrigation, enable us to optimally control the crops. We use fertilizer and water very specifically - i.e. not a drop too much or too little - and we switch external factors, e.g. B. Rain or the risks inherent in natural soil in connection with cultivation in the open air. In this way we can work on the size of the fruit and precisely plan the time and quantity of harvest. In 2018 we even harvested raspberries in this way until November. This year the harvest is expected to end a little earlier.
You have changed the packaging for the fresh berries this season. What has changed and why did it happen?
AB: Around two years ago, we producers from the food retail sector were given the requirement to save plastic on packaging by June 2020, among other things by using a topseal seal. At the time, we delivered our berries in plastic bowls that were manually fitted with a snap-on lid. Our entire production process was coordinated and perfected so that we actually saw no need for a change. Nevertheless, we agreed: Since this season we have been packing our berries in plastic trays made from rPET that is more resource-efficient. The trays are sealed with a film in a fully automated manner. The acquisition of a new system has significantly changed our processes and brought a number of - sometimes unexpected - advantages.
How did you find the right packaging solution?
AB: If you don't deal with the question of packaging on a daily basis, as we do, you come across a large, unmanageable market when looking for the right bowl with a top seal. There are so many different trays and sealing foils that you are overwhelmed at first.
Stefan Dangel: As a rule, the trading partner gives suggestions for packaging that the producer can take into account. But how does it go on then? Where should he start? With the packaging system, the tray or the film? This is followed by many more questions: Is protective fumigation necessary, if so which? Is it necessary to reseal the packaging? And what additional equipment is required for weighing and labeling? We fully supported Baumann at this point. It belongs to the free service of our house, it cannot be said often enough. There is no kick-back or the like, which in the end indirectly increases the system costs of whatever kind.
AB: In 2005 we acquired a first generation SP 350 traysealer for packaging asparagus from Sealpac. We are still using this system successfully and are very satisfied with it. Since then we have been in good partnership and have sent our request for a suitable machine for berry packaging to Sealpac, among others. I was very happy about the expertise of Jochen Paraquin, who knows the market and materials very well and gave me open-ended advice. We then decided to purchase a fully automatic traysealer in the medium performance class SEALPAC A6.
Jochen Paraquin: Since the sealing of packaging for fresh fruit is also one of the younger segments for us, we visited Fruit Logistica together to get an overview of the various options. We ended up with the rPET shell. Their material comes from collected, cleaned and shredded PET such as is known from bottles.
How does the packaging process work and what technical solution did you come up with?
AB: One of the special features of our processes is that we fill the berries into bowls in the field. These are then brought to the target weight by a special weighing system.
JP:From this two-lane load cell, the trays are also fed into the Sealpac A6 traysealer in two lanes. The system reacts flexibly to the feeding of the multihead weigher, since it cannot be guaranteed that exactly the same amount of trays will be fed on both tracks. This is why the two lanes work independently to ensure that all trays are reliably sealed - this is a novelty in this machine class. The system closes the rPET trays with a peel film, which is equipped with ventilation holes to ensure optimal moisture exchange in the packaging. Since most labeling systems work on a single track, the double track had to be merged after sealing. We implemented this directly in the machine for reasons of space. So the pods now run out of the machine in one lane, are labeled, collected and picked. The limited space at Baumann was also a challenge for our technology: We tailored the system optimally to the existing space and designed it in a U-shape without reducing its performance. Although the SEALPAC A6 packaging system is a very flexible tray sealing machine in the medium performance range of the series, between 120 and 140 trays are reliably sealed. We have adopted our tried and tested hygiene concept, designed for meat production, for the packaging of fruit and vegetables. The system is made entirely of stainless steel and has a sophisticated cleaning concept. Cleaning and maintenance take place ergonomically at working height. Fold-up hoods expose the entire machine,
AB: The cleaning of the system is an important issue: As a production processing company, we need completely different certifications than agricultural companies. Compared to other machines, handling and cleaning are very user-friendly. The system is also GS-approved by the professional association. That gives us additional security. When I do the tour with my checklists, I can tick the machine right away - that makes the formalities much easier for me.
What advantages does the new packaging with topseal offer compared to the tray with a snap-on lid?
AB: The trade benefits just like us from the very good stackability of the new packaging. We could even further optimize the logistics through even more efficient use of the transport boxes, because these can now be filled with at least twelve packs instead of six. That will certainly be a topic for the autumn talks with our customers. Conserving resources is important to us as an agricultural production company and a real incentive to buy for many consumers who pay attention to sustainability. The fact that less plastic is used for the packaging is clearly visible. The reliable seal also ensures safe transport of the tray, and the sealing film can be easily removed from the tray to consume the berries.
JP: I would like to add the safety aspect: The seal guarantees the consumer that the packaging has not been opened beforehand - many consumers have not only paid attention to this since the pandemic.
AB: Overall, we are very satisfied with our investment, which has brought many improvements for us, retailers and end customers. We even opened up a new business area without planning and now, as contract packers, also seal trays for other producers who cannot yet keep up with the requirements of the food retail trade.
You just mentioned sustainability. How important is it at Baumann and are there any other ideas for the future?
AB: We check every nook and cranny to see where improvements can be made. It starts with the use of film in the fields. Here, however, it is quickly overlooked that we have a berry culture for eight to ten years. That is how long the tunnels have been in use in the fields. Our pot cultures enable us to use water and fertilizer very sparingly. And our new packaging shows how packaging material can be saved significantly with rPET trays and the thin, very solid lidding film compared to the snap-on lid. With this packaging solution, we are among the pioneers in our industry.
SD: Sustainable packaging material is often addressed at all levels, but whether it relates to plastic consumption, food waste or the possibility of disposal or further use sometimes remains unclear.
In any case, it must also be clearly communicated to the consumer that every future measure, however important, has its price. In the case of packaging such as this one, this could be achieved, for example, with a QR code that informs the buyer of the special sustainability.
AB: In the future, we want to differentiate ourselves with even more sustainability. We plan to put our berries on the market in a sealed cardboard tray.
JP: Our Sealpac A6 traysealer also processes cardboard trays with unrestricted process reliability and is therefore well suited to implementing this project. Due to the full printability, cardboard trays are ideal for clearly communicating the increased sustainability aspect. Here, for example, one could indicate on the packaging that the cardboard tray and the sealing film can be easily separated and disposed of in the corresponding collections of recyclable materials.
SD: One point that is important to us: Of course, more sustainability also primarily includes reducing food waste through spoilage and all other factors such as transport, water waste, unnecessary cultivation areas, etc. As a machine manufacturer, we can contribute to this with options for extending the shelf life. The subject of MAP protective gassing for crops still needs development work, because too much vacuum leads to burst cells in the fruit. We are currently developing new ideas for even more freshness and extension.
AB: We are of course interested in that and are excited to see what developments Sealpac will present here. The device for protective gassing is in any case already available in our system with a view to future applications.