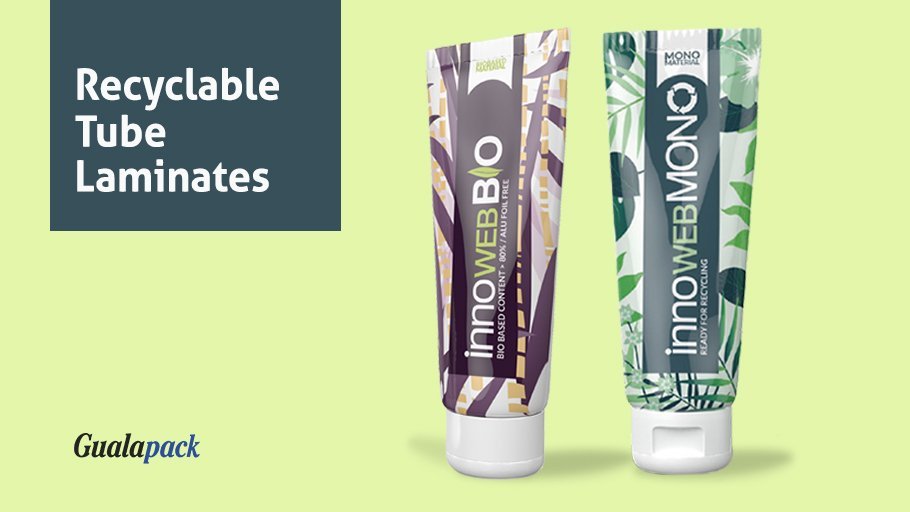 Press Packagingconnections
Nevertheless, most of laminates are multi-material, combining plastic and alumiunium. As a consequence, they're not fully recyclable.
In recent years, reducing waste is becoming a very important issue and consumers are more and more concerned about choosing an eco-friendly behavior.
In Gualapack, we made a point of "designing for recyclability", developing more sustainable solutions for flexible packaging, our core business.
We have always produced tailor-made tube laminates with high performance, without aluminium, printed or unprinted. A couple of years ago, we launched a new family of laminates for tubes. As its name suggests, Innoweb360° allows a 360° decoration, with extra glossy and metallic look, also with digital ink-jet printing systems.
(https://gualapackgroup.com/gualapack-products/08-a_innoweb/)
INNOwebMONO: the monomaterial pp tube laminate
Now, as a consequence of our strong focus on developing sustainable and recyclable solutions, we have launched a completely revolutionary range of monomaterial flexible packaging.
Besides Pouch5, our recyclable stand up pouches, we are proud to launch on the market our new  line of monomaterial tube laminates.
Designed for personal care, Innoweb Mono tubes are made of a single material: PolyPropylene, so they can be collected, sorted and recycled in the PP stream.
 Our new line of mono-material laminates for tubes is:
100% momomaterial PP
aluminium-free
High barrier and chemical resistant, preventing transfer of O2 and moisture
available in white, transparent or metallized and in different thicknesses
InnowebMONO has obtained the prestigious HTP_CYCLOS certification, proving its suitability for recycle, with a 98% recyclability score.
Tubes can be correctly sorted into the PP stream and mechanically recycled into new PP resin for injection moulding of non-food items.
The higher rigidity of polypropylene enables a thinner laminate wall thereby reducing the use of raw material, while maintaining the desired "bounce-back" effect of the tube.
perfectly compatible with AISA machines
INNOwebBIO
 We are very proud to have developed also another line of tubes made with laminate containing bio-based polyethylene.
Bio-based polyethylene is made with ethanol derived from renewable sources (biomass), that has a significant impact on the final carbon footprint of the packaging.