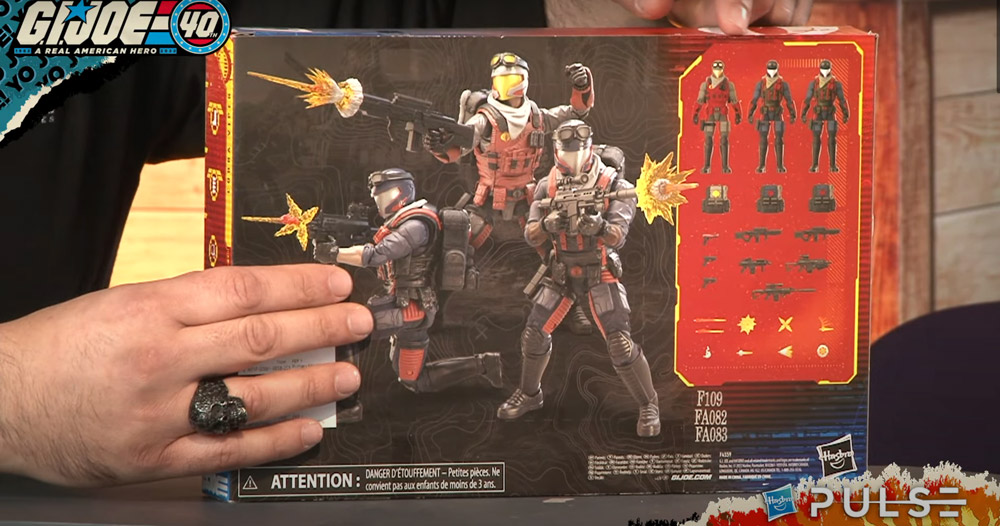 Grania Jain
The Hasbro Pulse team hosted a lengthy livestream to reveal product previews and other announcements for G.I. Joe's 40th anniversary.
Around the hour and a half mark, Emily from the product marketing team introduced the e-commerce packaging for an upcoming Cobra Viper Officer and Vipers set. This packaging, she notes, is also a preview of what plastic-free packaging will look like for the G.I. Joe line. The team emphasized that this Cobra Viper Officer box isn't exactly what the plastic-free packaging will look like, but that it is a "good indicator."
Instead of featuring a plastic window to display the contents, this set comes in a closed box that features original character artwork. It's somewhat similar to Hasbro's recent Star Wars The Vintage Collection Stormtrooper 4 Pack and Rebel Fleet Trooper pack, but with a more stylized packaging design. The box also features a "Plastic-Free Packaging" label on the front, while the back offers images of what's inside — both a posed photo and an inventory of the contents.
Inside, collectors will find a long, narrow box that has all of the accessories wrapped in paper. In the future, these boxes will be stylized as weapons crates.
Later in the livestream, the Hasbro Pulse team also addressed continued shipping delays and supply chain issues. Responding to a fan who asked "Why are the preorder lead times so shocking at the moment?" the team explained that a variety of compounding factors in the current manufacturing and shipping system have delayed G.I. Joe products (and other Hasbro collectibles) from their originally planned shelf dates. Emily also notes that Hasbro intentionally waits until they have enough figures on hand for everyone who preordered, so everyone gets them at the same time and not in staggered waves.