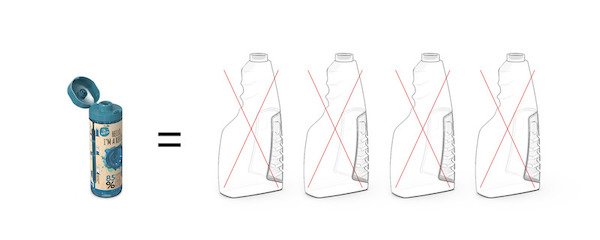 The 200ml refill bottle is made of HDPE, PP, or PET. Due to their shape, the refill bottles make it easy for consumers to squeeze out their contents in consistent doses – plus, they can be provided with an attractive label. In addition, the non-removable, hinged snap-on lid is fitted with a safety lock. They also have a large surface area that can be designed or decorated attractively.
Greiner Packaging is committed to advancing a sustainable circular economy that, in addition to recycling, also delivers reductions in plastic material use.
Consumers can get as much out of a single new refill bottle as they otherwise could from four separate plastic spray bottles, including trigger sprayers – over its lifecycle, original 500ml spray bottles and trigger sprayers can produce 10,000 individual 1ml sprays, ensuring that they can be used to its maximum potential.
Tõnu Kundla, International Business Development Manager at Greiner Packaging, said: "It goes without saying that we were primarily aiming to reduce material use when we developed the new spray bottle multidose refill. The amount saved increases exponentially throughout the intelligent refill cycle – ultimately yielding a reduction of up to 85 per cent. Each year, this could save up to 1,000 metric tonnes of plastic, if we assume that there are 20 million standard spray bottles a year. In order to be sustainable, reuse of a spray bottle and its refills must become a new normal."
Outer packaging is no longer strictly necessary here, which further reduces material use while underscoring sustainability. Furthermore, the option of producing the entire bottle from PCR plastic adds more sustainability.