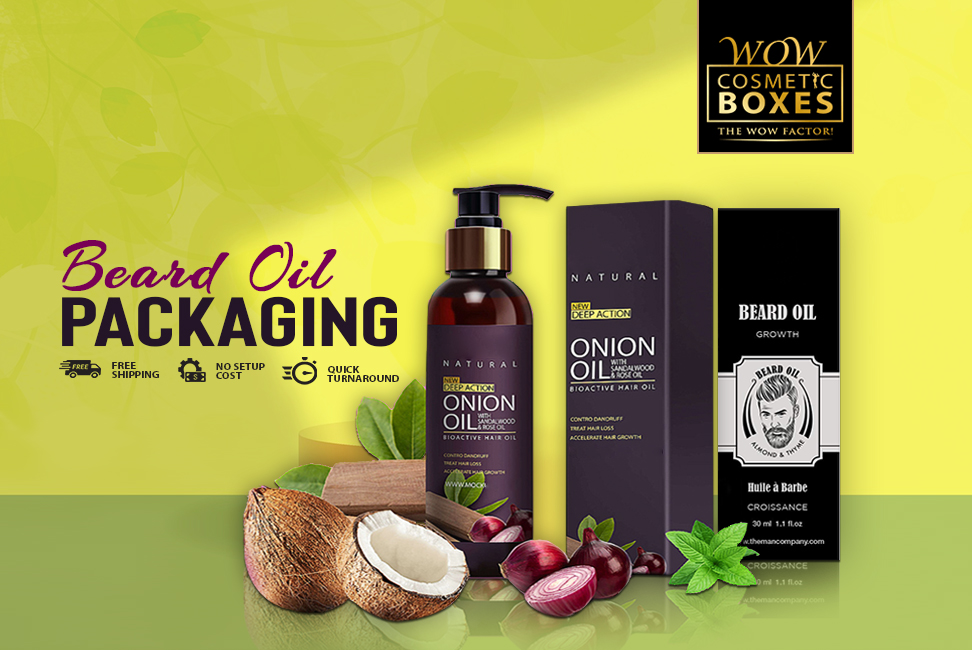 Corbin Spicer
We always hear the phrase never judge a book by its cover. But when it comes to custom packaging, we cannot underestimate the power of a creative design. The power of a productive and unique solution matters to both brick-and-mortar and e-commerce sales. It is your first touchpoint with the customers. Packaging is your first chance to connect with the targeted audience on a personal level. It makes a killer impression and impacts their decisions. But to master the art of design, it is essential to know the basics. We cannot say that designing custom packaging is a piece of cake, but it is not a science experiment either. All you need to do is to be creative and stand out.
Everything You Need To Know About Beard Oil Packaging
When designing your Beard Oil Packaging, there are a lot of things to consider. Think about your ideal customers and how they want to purchase your product. Figure out what message you want to communicate and how to set your product apart from the competitors. The three main aspects of the custom boxes design are the information you like to offer, the material, and the actual artwork. Consider these three aspects before starting printing beard oil boxes. Some useful questions to ask are, how can you be unique? Are customers looking for a luxurious product? Do they pay attention to the sustainability factor?
Here are some basic questions that can help you to design a creative solution for beard oil containers
What Are Your Product And Its Requirements?
The first step to designing a custom packaging solution is to know your product. You need to know everything about the item you are going to pack. Are you going to package one item in the box or the multiple? Is the beard oil container made of plastic or class? How delicate is it? What are the size, dimensions, and weight of the product? Assessing all the needs and requirements can make you know what you need. It will also let you know whether you need a primary packaging layer or secondary, or both. It is the first step of the design process, and you should not overlook it.
Who Are Your Customers, And Who Is The Competition?
A wise person once said, "You cannot please everyone at once"...…So don't try it. Packaging design turns out to be perfect when design according to the ideal customers. Do a careful analysis and know what the targeted audience wants. Ensure that the design speaks to them by addressing their needs. When it comes to beard oil, it is not difficult to identify the ideal customers. We all know the key to see your product in the crowded market is to stand out. Understand your competition to find out how you can be unique.  It gives you valuable opportunities to grow your business. If everyone is using cardboard, use Kraft to stand out.
What Design Elements Will Work Best For Cosmetic Packaging?
What does it take to design attractive Cosmetic Packaging? The right choice of design elements. The color, typography, graphics, and images are the main components of a visual-appealing design. Make sure to choose the right color relevant to your product and brand. It impacts the customer perception and builds positive emotions. So, make the right choice. The fonts should not only be unique but clear and readable. Don't compromise the readability over something extravagant. When it comes to imagery, we always recommend using the product's images. Patterned designs and illustrations can make you stand out. A unique solution always catches the customer's attention.
How Do You Want Your Customers To Feel When Unboxing The Product?
When customers unbox the product, there are certain feelings and emotions attached. Try to make the unboxing experience valuable and memorable for the customers. Everyone loves to feel special and loved. Offer them something unexpected to add an element of surprise. No matter what the inside content is, make sure that the presentation sets the appropriate expectations. A small handwritten note can do wonders for you. There are several other options to get creative with the unboxing. Discount coupons or vouchers are the ultimate way to bring back loyal customers. It can make customers feel satisfied with their purchases.
Does The Material Need To Be Reusable And Recyclable?
A sad fact is that packaging contributes a big-time to environmental waste. But there are many ways to overcome this issue. Being green should be your priority. You cannot survive in the market without being sustainable. It is extremely crucial to use reusable and recyclable materials. As a brand, it is also your responsibility to educate your customers and promote sustainability. Cardboard, corrugated, and Kraft are the top choices for an eco-friendly solution. Not only material but also try to use reusable ink for printing and finishing. If you are a green brand, make sure to mention it in the boxes in bold and clear fonts.
What Are The Shelf Requirements For Custom Lip Liner Packaging?
Whether you are a retail or an e-commerce brand, try to design shelf-ready packaging. An SRP refers to the solution which is efficient for shelf stocking and sales. When seen from the customer's perspective, the product is never alone on the shelves. They see the products arranged in the same patterns unless a unique design captures their attention. Shelf impact is the unique and distinctive appeal of your product when placed on the shelves. It makes a significant impact on perception and sales. But it is essential to explore and test different options for the distinctive shelf impact. The more unique it will be, the more it will get sold.
We hope the above guide will help you to design a creative custom Lip Liner Packaging. It can make your product pop on the shelves and land in the customer's cart. Designing a perfect solution may seem an overwhelming process, but learning few design basics can help you out. Remember to have a functional and visual-appealing solution.