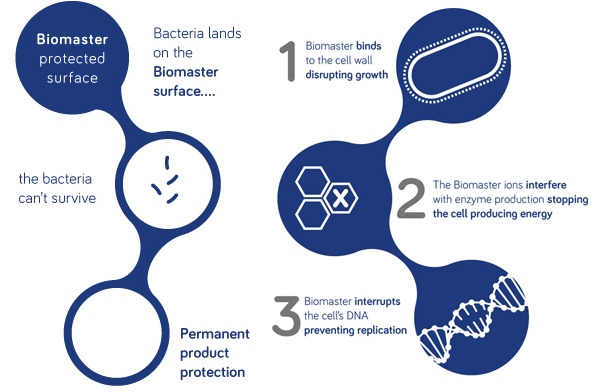 Biomaster Antimicrobial Technology provides effective product protection against microbes that may cause degaradation, stains and ordors.It ensures effective antimicrobial product protection for the effective lifetime of product.It can be esaily incorporated in plastic, textile, paper, paint or coating, during manufacturing process making it as intergal part of process and finished product.Biomaster is incredibly durable, long lasting and highly active
Biomaster pioneered the development of permanent antimicrobial product protection into new substrates such as plastics, coatings, textiles and paint and continues to create innovative technologies that provide long-term defense against bacteria that causes degradation, discoloration, mold and mildew.
How does Biomaster works?
Biomaster is based on silver ion technology and has three modes of action.
When bacteria come into contact with a Biomaster protected surface, the silver ions prevent them from growing, producing energy or replicating, therefore they die, inhibiting degradation, discoloration or odors.
Silver is inorganic and non-leaching which means that, unlike organic antimicrobial technologies, it stays within the item to which it is added.
The controlled release of the active ingredient provides maximum antimicrobial protection for the lifetime of the product.
Biomaster Technology
Biomaster pioneered the use of silver-based antimicrobial additives and is now the recognized leader in antimicrobial additive technology.
Silver is a natural antimicrobial. Silver has been used for thousands of years to prevent the growth of bacteria without the high toxicity associated with other metals. Bleow are few examples of how silver is used as natural 
Antibiotics earlier and now a days.
1. NASA use Sliver to purify water in Space shuttle .
2. Silver is used in topical gels to treat serious burns and in coated dressings to aid wound healing
3.  Physicians used colloidal silver as a mainstream antibiotic treatment, until the intorduction of antibiotics.