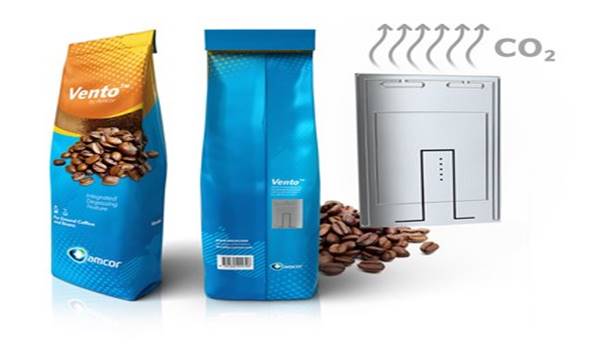 An advanced packaging system with built-in venting control for ground coffee and whole beans. For coffee roasters, freshness is key thing and to deliver full flavour to consumers, most coffee producers prefer to package their product right after roasting. Currently the solution for degassing freshly roasted coffee is to apply hard valves that allow carbon dioxide (CO2) to escape the pack, however this adds parts, machinery, complexity and costs to the packing process.
Vento is the coffee packaging system which is delivered to roasters with the degassing system already applied and it is ready to run on filling machines. Coffee can be packed immediately after roasting with no additional equipment or steps, preserving its fresh flavour and aroma. A high performance degassing system that is integrated directly into the packaging laminate.
Some of the biggest benefits from switching to this pack are reduced downtime and less production waste.
A coffee venting solution must release CO2 and at the same time keep oxygen from entering. Faulty application of hard valves can cause oxygen retention, making coffee become stale while this pack removes the risk of faulty application for roasters. Additionally, a high barrier coating on this pack prevents oxygen from entering the pack. As coffee starts to degas, the pressure inside the pack pushes a small venting layer open and CO2 flows out. As soon as degassing is complete, the venting layer returns to its original position, preventing oxygen from entering and keeping the coffee fresh.
In addition to freshness and process efficiency, it also offers sustainability advantages. It is up to 87% lighter weight than hard valves and allows energy savings by eliminating the need to power an applicator machine. This results in up to 8% decrease in overall carbon footprint for a 250 gram pack.
It offers coffee roasters many advantages over traditional hard valves:
•Optimal freshness with venting control and high barrier coating
•Simplified packaging process
•Runs on all coffee packing machines with no equipment investment
•Reduced complexity with fewer parts to purchase and manage
•Improved shelf appeal by allowing brands to place the vent on the back side of the pack
•More sustainable thanks to a lighter weight and up to 8% reduced carbon footprint vs. hard valves
Amcor is showcasing  all these innovations at  Interpack 2017