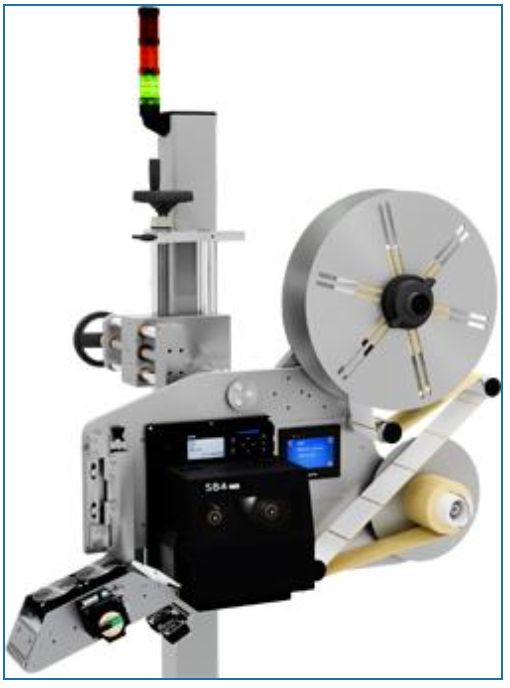 Aditya Panwar
ALcode is the name that distinguishes, within the ALtech range, the print application systems of self-adhesive labels, which in various configurations are already widely established on the market. In ALcode systems, label printing is performed by a Sato (or compatible) printing module, while the application is performed in real time by a device that picks up the label just printed, and carries it onto the product. 
The new model - which represents the natural evolution of the previous model of which it maintains many of the appreciated features, such as compactness and reliability - has been equipped with a color touch-screen display for managing the labeling parameters, which offers new functionality, and makes the operator's job easier.
The new labeling machine has been equipped with a standard 300 mm reel holder, with a further simplified paper turn, and the optional possibility of mounting a 400 mm one has been added. (with a rewinder of increased capacity), which allows for reducing the interruptions due to the change of labels and consequently the optimization of the times on the packaging line.
The new ALcode can mount the wide range of applicators already developed for the previous model. Specifically, 2 different applicators were exhibited at the fair: The first was created for applying multi-format labels by air; the second is a suction belt device for real-time printing and high-speed application on moving products. The latter applicator is also a novelty, since the new version it is exclusively electrically powered, which makes it possible to eliminate the use of compressed air and the relative pneumatic circuit.
The new version of the ALcode is the result of experience and a study aimed at creating a labeling machine that embodies precision, reliability, and ease of use: these have always been the foundations that distinguish ALTECH systems.
ALTECH SRL
info@altech.it
+39 0290 3634 64