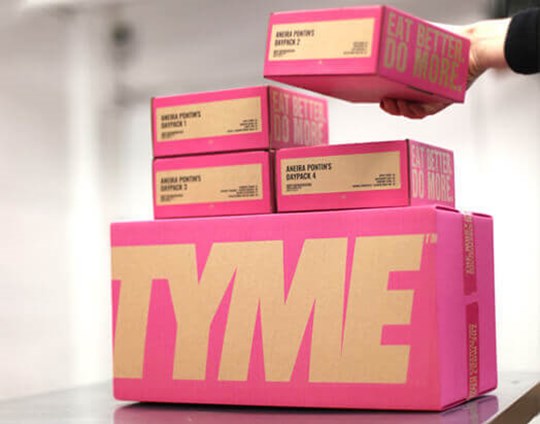 Mondi's new BCoolBox keeps meals chilled to 7°C or below without refrigeration, allowing TYME Food to ship all across the UK from one central kitchen
Corrugated mono-material construction makes recycling BCoolBoxes a breeze, meeting TYME Food's ambitious sustainability goals
When TymeFood needed higher-performance, more sustainable packaging for extending its reach out of London, it turned to Mondi, a global leader in packaging and paper. The solution, BCoolBox, is now keeping TYME Food's weekday meals fresh as it delivers them to all corners of the UK.
The London start-up had a stunning local launch with its nutritious, plant-based, high-quality offerings, with a brand image appealing to environmentally-conscious consumers seeking to reconcile busy lifestyles with healthy eating. But repeating this success nationally required better packaging – more robust, thermally insulated, and easily recyclable. The solution also needed to be scalable to keep up with fast projected sales growth.
TYME Food tested several multi-material options before turning to us. After analysing the conundrum with our customer-centric EcoSolutions approach, we proposed a trial of our new BCoolBox packaging system optimised for TYME Food's needs. BCoolBox's tough, lightweight corrugated sides and insulation panels keep contents well protected at under 7°C for a minimum of 24 hours during standard shipment. Its all-corrugated, mono-material construction simplifies the supply chain. It's been great to be able to prove the effectiveness of this product.
BCoolBox can be thrown into the paper sorting bin, unlike multi-material packaging where the UK does not have the necessary recycling infrastructure. With their core commitment to sustainability, this was a particular concern for TYME Food's management. "We were looking for an insulation material that would maximise the possibility of it actually being recycled. Mondi's perforated panel concept is very smart. Paper is a material that customers know how to recycle in the conventional infrastructure in the UK rather than requiring novel education or conditions to do so. So we invited Mondi to test their product for us." said Joe Cooke, Creative Director, at TYME Food.
The trial, conducted in various conditions with sensors implanted in the BCoolBoxes, proved successful: meals arrived undamaged and unspoiled - and, of course, cool, their contents never exceeding the critical 7° limit. Shipping weight charges were also reduced due to the compact and lightweight composition of the packaging. BCoolBox was clearly ready to serve its first volume customer.
Joe Cooke continued: "The sampling and trial process was very fast and the ability to test with sensors in our different supply chains was critical. Mondi's contribution to testing a proof of concept using solid data was amazing. The data, and the fact that Mondi had set up it's concept clearly for mass production - allowing us to quickly scale as we grow - supported our decision for BCoolBox. They also offered flexibility to meet our requirements with printing and packing, giving us both brand and operational value. Key factors of a good design. Mondi certainly allowed us to open our service to the whole of the UK. Consumers so far are happy with their experience and the freshness of our meals when they arrive. Relationship-building with Mondi and their attention to detail has been terrific; we still have ideas how to further optimise, and Mondi is already at work here for us."
About Mondi
Mondi is a global leader in packaging and paper, contributing to a better world by making innovative packaging and paper solutions that are sustainable by design. Our business is integrated across the value chain – from managing forests and producing pulp, paper and plastic films, to developing and manufacturing effective industrial and consumer packaging solutions. Sustainability is at the centre of our strategy and intrinsic in the way we do business. We lead the industry with our customer-centric approach, EcoSolutions, where we ask the right questions to find the most sustainable solution. In 2021, Mondi had revenues of €7.7 billion and underlying EBITDA of €1.5 billion.
Mondi has a premium listing on the London Stock Exchange (MNDI), and a secondary listing on the JSE Limited (MNP). Mondi is a FTSE 100 constituent, and has been included in the FTSE4Good Index Series since 2008 and the FTSE/JSE Responsible Investment Index Series since 2007.
Mondi
Waltraud Seiner
Head of Marketing & Communication Corrugated Packaging
Waltraud.seiner@mondigroup.com
+431790134754