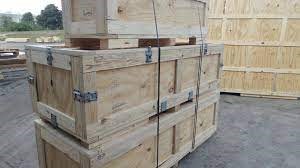 Dating back to the 18th century in Europe, the use of wooden crates in the shipping industry was also accompanied by an increasing incorporation of wood in buckets, barrels, boxes, buildings, machines, mills, furniture, carts, ships, and even shoes. Fine wooden boxes were used to store precious objects as well as to act as decorative pieces, industrial wooden crates gathered, stored, protected and shipped consumer goods. Wooden carts used wooden wheels to ship inventory more locally.
The primary reason behind the interest in using wood as the chief material in shipping containers was attributed to its strength, sturdiness, thickness, durability reusability and security. For overseas transport, wood served the purpose of withstanding harsh, salty weather and safely delivering the contents.
Wood can resist extreme weather conditions often experienced during international and intercontinental transport; from rainy weather to extreme heat and/or humidity to intense wind, ice and snow. Wooden crates are also easy to stack and can optimize space if filled efficiently.
Three centuries later, wood crates are still one of the world's most popular shipping solutions. It still has some advantages over the alternative of using steel containers.
Steel is an excellent conductor of heat and allows moist interior air to condense on its surface in temperate climates. Steel is also prone to rust, the prevention of which requires insulation, a costly practice.
Today, wooden containers can also be easily customized and constructed to be lighter than steel. Upon a complete calculation, it is also realized that wooden crates are the most cost-effective and environmentally-friendly option.