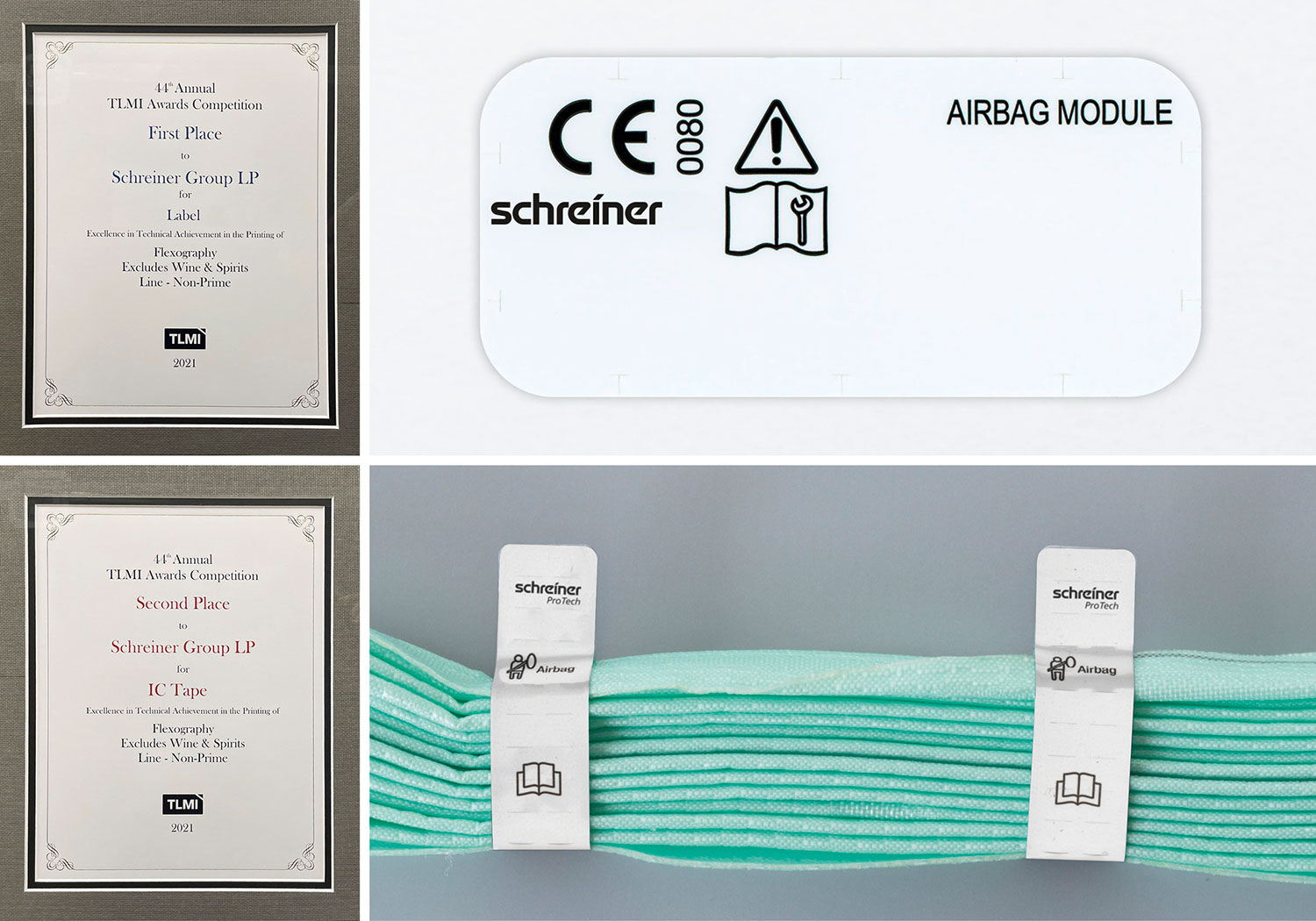 Bhaskar Ch
Airbags save lives, but need to be labeled correctly and deploy at the right moment to do so. A marking label and an airbag tape from Schreiner Group ensure that. Now both products have been recognized with the prestigious TLMI Award.
Every year, the American Tag and Label Manufacturers Institute (TLMI) nominates the best products of the printing industry. In selecting award-winning entries, the judging panel places particular emphasis on innovation and technical achievement. The prestigious recognition has previously gone to Schreiner Group from Oberschleissheim, Germany, on several occasions. In the 2021 TLMI Awards competition, Schreiner Group was able to celebrate two wins: a first-place award for its marking label of an airbag control unit and a second-place award for its airbag tape. Both are products from the Schreiner ProTech business unit that develops innovative marking solutions and film-based functional parts specifically for the Mobility market.
All the individual components have to be installed correctly to ensure the protective effect of an airbag. The marking label from Schreiner ProTech that won a first-place TLMI Award supports that. The special aspect of this product is a combination of the material and adhesive system ensuring reliable adhesion of the label throughout the entire lifecycle of the airbag control unit. Security slits prevent non-destructive removal of the label, for instance by product pirates to mark counterfeit components—which enhances product safety for manufacturers and consumers significantly.
A second-place award went to the airbag tape, another entry from Schreiner ProTech. This product has several functions as well, featuring customized printing and serving as an installation aid and tape rolled into one. The tape is produced specifically for head and shoulder airbags, which are tube-like, folded airbags attached to the vehicle's body shell. The airbag tape keeps them in their folded condition—from pre-assembly to installation in the vehicle to potential airbag deployment.
For CEO Roland Schreiner, the awards are tremendous motivation: "I am delighted that we were so successful in the TLMI Awards once again—this time with as many as two awards. That shows that our innovations are seen and motivates us immensely." The high-tech company has had its own US site in Blauvelt, New York, since 2008–and has been a supplier to the American market for more than 20 years.
+++
SGR_TLMI-Award-2021:
In the 2021 TLMI Awards, Schreiner Group was recognized twice for multifunctional airbag labels.
+++
For more information, please contact:
Susanne Höppner, Corporate Communications
Phone +49 89 31584-5852, susanne.hoeppner@schreiner-group.com
About Schreiner Group
Schreiner Group GmbH & Co. KG is an internationally active German family-owned company and regarded as a preferred partner in the Healthcare and Mobility markets. Its core business is focused on top-quality functional labels enhanced by complementary system solutions and services. Schreiner Group's innovative high-tech labels and functional parts create new dimensions for smart solutions and help make life healthier and safer, and enhance human mobility.
More than 1,200 employees generate total annual sales of about 190 million euros. The high-tech company has four locations: In addition to the headquarters in Oberschleissheim and another production site in the Munich metropolitan region (Dorfen), they include the two international manufacturing facilities in the United States (Blauvelt, New York) and in China (Fengpu, Shanghai).
Collaboration and exchange are shaped by the core values of Innovation, Quality, Performance and Enthusiasm. Schreiner Group defines itself as a company committed to acting sustainably and therefore deliberately assumes responsibility for people, the environment and society.
Schreiner Group
Susanne Höppner
Corporate Communications
susanne.hoeppner@schreiner-group.com
+49 89 31584-5852