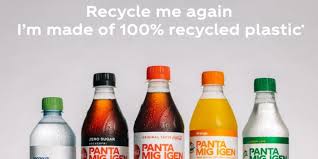 Vishu Dixit
Not only are all locally produced plastic bottles in Sweden made from 100% recycled PET plastic, but the labels on some of the company's most popular brands are encouraging consumers to recycle the bottles again and again.
In the first quarter of 2020, plastic bottle labels in Sweden put sustainability first and issued a recycling call-to-action.
The familiar brand colors of Coca-Cola, Fanta, Sprite and Bonaqua are turning all-white, with a powerful and simple message: "Recycle me again. I am made of 100% recycled plastic. Made in Sweden" (Panta mig igen. Jag är gjord av 100% återvunnen plast1. Tillverkad i Sverige). The exclusive label design is on all .5-liter and 1.5-liter PET bottles produced in Jordbro.This move kicks off of a broad plastic recycling initiative, supporting Coca-Cola's efforts to contribute to a circular economy by encouraging consumers to recycle their plastic bottles so they keep coming back as new bottles.
"The transition to 100% recycled plastics in Sweden is a significant landmark for our business," said Barbara Tönz, general manager, Coca-Cola Sweden. "We are delighted to introduce these rPET bottles, made no new 'virgin' oil-based plastic. Of course, we also want to ensure that we get each of these bottles back to recycle them again, so that no packaging ends up as litter or waste in our oceans and the environment. That's why I am proud that we are launching the bottles with labels that mark such a distinctive departure from their usual look, using the power and reach of our brands to promote the important sustainable message of 'Recycle Me Again.'"
Reflecting The Coca-Cola Company's ambition for a World Without Waste, Tönz adds: ''As a company, we are clear about our responsibility to see that none of our packaging ends up as waste or in nature, and we need the support of consumers and all other stakeholders throughout the value chain to achieve this. We are committed to making a positive contribution in the communities where we operate and to promote a circular economy for plastic packaging. When we engage with consumers on the issues that matter, we can really make a difference together.''
Thanks to a highly effective deposit return system, 85% of all PET bottles are recycled in Sweden. The call to action on Coca-Cola packaging labels is one of many initiatives needed to reach the goal to collect 100% of the company's packaging by 2025.