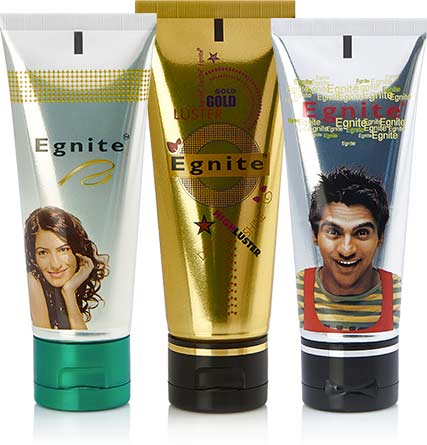 Egnite is a high-luster laminate available in a variety of shades. Its metallic foil enhances its ability to block while also offering a striking level of product differentiation. With material that provides a protective barrier and resilient bounce-back properties, it helps the tube maintain shape and form while also creating a distinctive aesthetic effect with a surface so lustrous that it is reflective.
News:
Egnite facilitates complex printing with novel colours and effects, changing the canvas for laminated tubes. Egnite provides laminates so unique that it will truly catch busy shoppers' attention. It provides a creative way to add glamour and superior protection to products, bringing a new dynamic to high-end consumer segments, far surpassing what any other laminate can offer.
With the look of metal and the feel of plastic, Egnite is a unique packaging differentiation that grabs consumer attention. Its exceptional barrier (EVOH and MPET) is available in six high-luster shades and helps protect from counterfeiting. Egnite decoration options offer a distinctive brand image and vibrant shelf impact. Essel's full range of high-luster printing capabilities including four-colour process, silk screen and hot stamping on a radiant Egnite canvas.