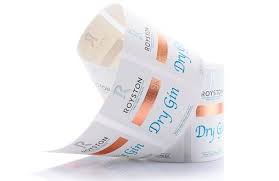 The Royston Labels produced three label runs, based on two designs and bearing two distinctive foil techniques. The first, which bears the words "Royston Labels" and "Dry Gin", utilises a lenticular refraction effect, achieved with a single die manufactured by Arden Dies & Engraving. The effect allows for the foiled area to display differently when seen from different angles.
For this first trial label the words "Royston" and "Labels" were overlapped across a copper rectangle. The lenticular effect allows you to read both words individually when you shift the label back and forth under the light. The technique can be used to display words or images, and can be achieved with hot foil in any colour – giving customers plenty of choice!
The second foil design displays a foiled skull boasting detailed line work that lends the image a sense of texture, depth and dynamism. Our team created this foiled skull using a sophisticated 3D refraction technique, once again made possible with tools from Arden Dies & Engraving. The design was printed twice, using silver and blue foil to illustrate the differing effects that can be achieved with alternative colour palettes.
Foil Innovation from Royston Labels Finishing details on all three labels include the Royston "R" logo, printed using a fluted hot foil die with laser seamless holographic foil, and tactile clear screen to embellish some of the additional lettering.
Royston Labels carried out all three trials on their 12-colour Nilpeter FA4 press, printing onto Manter Coton Bianco uncoated beverage material and applying foils supplied by Kurz and Foilco. With all three labels the foiling was done simultaneously on press using Pantec Rhino flatbed and embossing unit, which allows multiple foils or embossing in one pass.