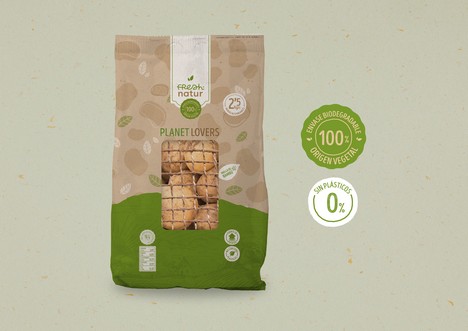 It's the first time that a potato distribution brand in Spain is using this innovative and fully sustainable packaging format. It is made from paper and bamboo mesh and features water-based inks and vegetable-based glues, which make it fully recyclable.
Under the name "Planet Lovers", Freshnatur's new product is being packaged at Patatas Lázaro's plant in the Valencian town of Puzol and is available to consumers in a 2.5 kilo format. This new packaging format has the Freshtech 4.0 technology seal, thanks to which the product's traceability is guaranteed at all times. It also includes instructions for storage.
The launch is part of a broader concept that Patatas Lázaro has embarked on and which the company calls "Terrología," an amalgamation of "tierra" (Spanish for soil) and "tecnología" (technology), and a reflection of the company's tradition of the past 75 years.
"With the launch of this 0% plastic and 100% biodegradable packaging format, we are becoming pioneers in our industry. It is something that today's environmentally-conscious consumers are increasingly demanding and we are totally on the same page," said Cristina Lázaro, Director of Business Development and Marketing.
"As a company, Patatas Lázaro stands fully behind the 2030 Agenda and the Sustainable Development Goals. The new eco-friendly 'Planet Lovers' packaging is having a direct impact on SDG 12 (Sustainable Consumption and Production), SDG 13 (Climate Action), SDG 14 (Life Below Water) and SDG 15 (Life on Land)," she says.