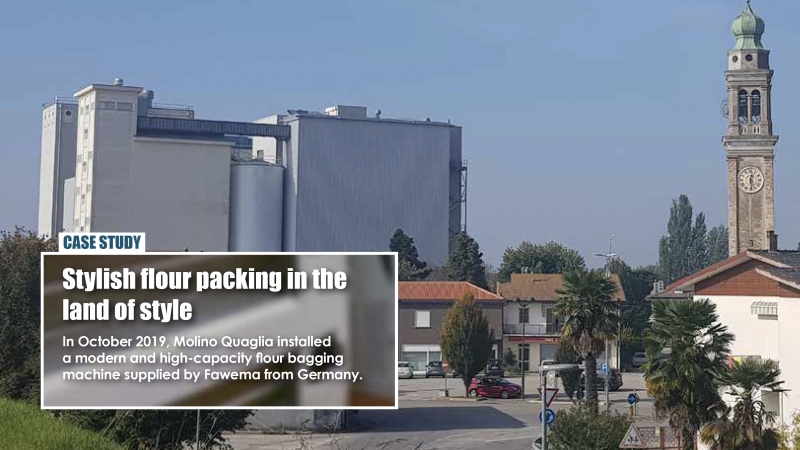 Press Packagingconnections
This type of flour pack is becoming more and more popular with wholesalers and distributors who supply national and international restaurant chains, fast-food franchises, bakeries, pizzerias, patisseries and speciality food retailers. Less expensive compared to valve sacks and more convenient and hygienic compared to open mouth sacks with a stitched closure, the paper glue-closed "brick pack" is cost-effective, easy to use, extremely compact and lends itself perfectly to automatic palletising.
A large percentage of Molino Quaglia´s products are for export and therefore it´s essential that all the bagged flour is palletised and wrapped for safe storage and secure transportation in both sea containers and road trucks. The 10kg and 12.5kg size packs are rapidly increasing in popularity and therefore the mill needed a new packing line which was high speed, completely automatic, efficient, reliable and able to produce attractive, compact bags which were extremely precise in terms of weight accuracy.
The new Fawema FA235 flour packing line ticked all of the boxes. The machine is the latest in a long line of Fawema equipment to adopt servo-drive technology instead of old-fashioned mechanical cam-drive transmission. This ensures that the machine is accurate, hygienic, simple to use and requires minimal maintenance due to the absence of wearing parts and components. Furthermore, in the great tradition of Fawema machine-building, the packing line is able to deliver high output targets of 30 bags per minute on a daily round-the-clock basis.
More than 22 tonnes-per-hour packed perfectly in ecofriendly paper bags
Andrea Quaglia, who is in charge of the packaging section of the mill, explains; "our business has increased a great deal during the last few years, especially on the 10kg and 12.5kg bag sizes which are steadily replacing the bigger 25kg size and we could see that in order to guarantee prompt deliveries in the future, we needed to invest in a new packing line which would be able to run constantly at high speeds. Not only that, but we needed it to be exceptionally accurate. With
high tonnages, tight margins and high-value pizza flours, we could not afford to over-fill and give away product unnecessarily.
Accurate weights, high volume throughput and compact bags were our objectives. With the new machine we have achieved these goals and the total line, complete with palletiser and pallet wrapper, runs like a thoroughbred racing Ferrari".
Know-how + experience = success
"We were delighted to serve Molino Quaglia on this important project", explains Mark Wild, Fawema Sales Manager. "From our very first meeting, there was an immediate feeling of trust and mutual respect and we were very conscious of the fact that the client selected Fawema because of our excellent reputation within the international milling industry.
"Thanks to our huge resources of know-how and experience, coupled with smartly-designed modern equipment, I´m delighted to say that we have added yet another successful project to our lengthy reference list. From start to finish, it´s been an absolute pleasure and privilege to work with Molino Quaglia". Fawema wishes to thank the Quaglia family for their generous permission to publish this article.