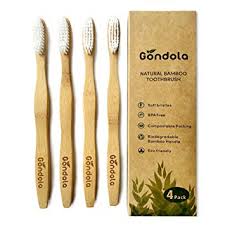 Vishu Dixit
The Gondola Bamboo toothbrush idea was born after the family of the founder decided to change their lifestyle, consume unprocessed organic food and reduce the use of non-degradable or recyclable materials. Later, the family decided on a lifelong transition that emphasizes recycling and environmental protection. Then we realized that plastic recycling is not a solution to the crisis. Recycling plastic is costly and does not stop or decreases the plastic production. Over time we have set ourselves the goal of spreading the vision of a healthy and natural life while caring for the environment to our community.
Benefits
• Natural Bamboo Product
• Compostable brush handle
• Biodegradable packing
• A sleek, natural look and feel
• BPA-free bristles
The Handle
The handle is made of MOS bamboo, an environmentally sustainable timber. The bamboo is heat treated to carbonize the surface of the bamboo, giving it a quality finish and good service life. The carbonization finishing process provides water resistance and prevents the growth of microbes (bacteria and molds) during normal use.
The Bristles
1. The bristles are made from Nylon4, bamboo fiber or corn fiber.
2. We recommend you rinse and dry your toothbrush after use to keep it clean.