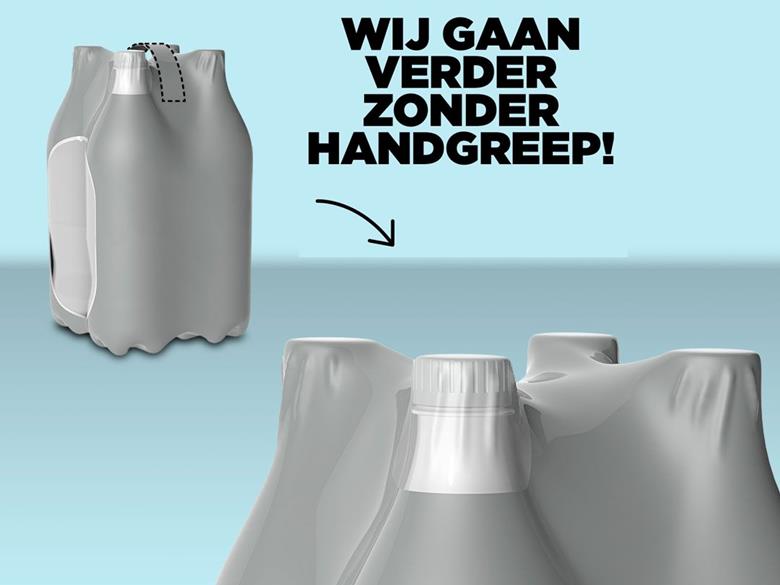 This adjustment has already been implemented on some packaging in recent times, and the companies say that it appears to be workable for the consumer. That is why this step is now being implemented on all multipacks.
Most consumers will have consciously or unconsciously held the handles - also called carrying loops or handylifts. They are on the multipacks in which, for example, four or six large bottles of soft drinks or water are sold in supermarkets.
They are intended to provide ease of lifting. Convenient for consumers, but disadvantageous from the point of view of recyclability: they are often made from reinforced plastic, of a different material than the rest of the packaging, making it less recyclable.
Niels van Marle, of the Knowledge Institute Sustainable Packaging (KIDV), says: "The omission of the handle improves the recyclability of bundle packaging. The outer packaging itself is made of the flexible plastic material LDPE and the handles of the material PET. If you as a consumer dispose of this outer packaging in one go, i.e. without separating the handles from the outer packaging, the two different materials end up together in the recycle stream.
"This can hinder recycling, because PET has very different recycling properties than LDPE, such as a different melting temperature. The new packaging without a handle therefore also comes out better in the KIDV's recycle check than the one with a handle. In addition, omitting the handles naturally saves material."
According to the companies, experiences to date show that consumers can still grip the packaging well when opening the packaging on the side. Packaging without handles will be rolled out incrementally in supermarkets in the Netherlands in the coming months.
All parties involved are also signatories to the Dutch Plastic Pact, which focuses on reducing plastic and making recycling more widespread.
Martijn van Rijn of Plastic Pact NL says: "The adaptation of this packaging is another step towards more sustainable plastic packaging. Because these companies work together, a lot of impact is made at once and this fits well with the realization of the goals of the Plastic Pact NL."