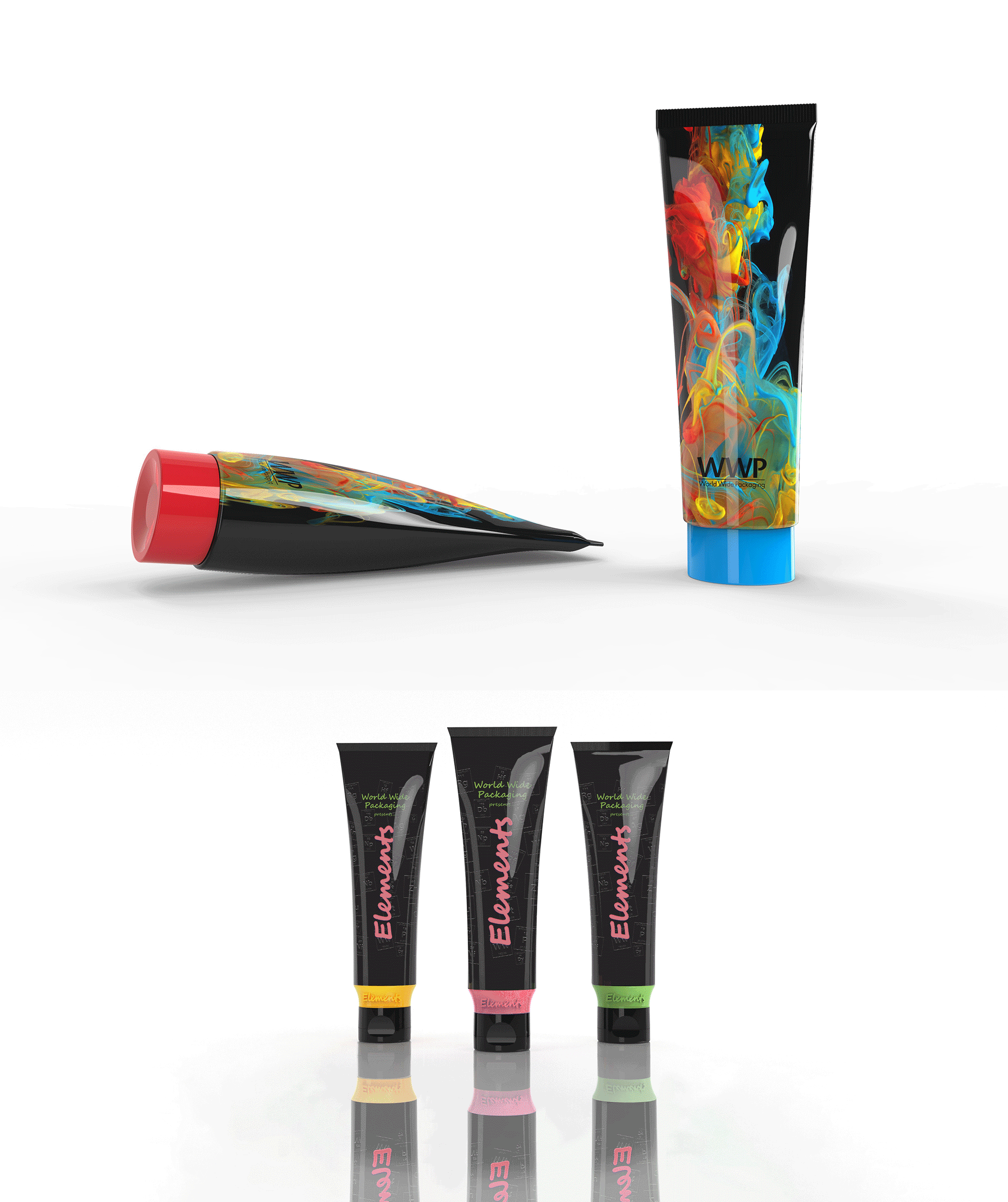 World Wide Packaging Introduces Two Innovative Tube Design Features

Leading Provider of Cosmetic Packaging Components and Tubes Develops In-Mold Branding and High-Resolution Decorating Technologies

Florham Park, NJ – World Wide Packaging LLC. (WWP), a leading provider of cosmetic packaging components and plastic tubes, has developed and launched two highly impactful design features that add intrigue, functionality, convenience and value to its broad range of tube packaging solutions.
ELEMENTS Tube Line: ELEMENTS™ is a trademarked in-mold branding feature for WWP's 50mm, 40mm, and 30mm diameter tube offerings. The unique technology allows customers to add a custom logo molded onto the shoulder of the tube in a variety of configurations. Logos can be embossed or debossed, depending on the format.
Combining molded shoulder color ranges with custom artwork, ELEMENTS™ produces an assertive graphic statement for an on-shelf point of differentiation instantly noticeable to consumers. Customers also can choose to include anti-counterfeiting features, making their product safer while increasing point of purchase influence.
Direct Flexo Imaging: WWP also has launched a groundbreaking tube decorating technology trademarked Direct Flexo Imaging™ (DFI), a hybrid application utilizing high-resolution print imaging. Unlike conventional direct dry offset and silk screen printing, DFI allows unlimited graphic potential and photograph-quality imaging and resolution – and accomplishes this without the physical material attributes of a pressure-sensitive label. DFI encompasses a variety of decorating mediums such as flexography andAnchor roto gravure – with metal, digital and combination printing. All artwork can be registered to the thumb notch of the closure, and is available for WWP's complete line of extruded tube offerings.
"At WWP, we place strong emphasis on going above and beyond the norm to create bold new cosmetic tube package designs," said James Farley, Executive Vice President of Global Business Development. "This most recent pair of tube design innovations are shining examples of WWP's ability to develop groundbreaking, problem-solving solutions that meet and exceed our customers' needs."
About World Wide Packaging
World Wide Packaging LLC provides the cosmetics and personal care industries with a complete range of packaging components, custom and stock molding, and turnkey operations. The company also specializes in custom engineered solutions for a variety of unique product applications. WWP's extensive product line includes a wide selection of innovative tube packaging options, jars, compacts and lotion bottles comprising everything from plastic mass-market containers to sophisticated metal cases for lipstick, lip gloss, mascara, and eyeliner… all offered at competitive prices with dependable, high quality service.
World Wide Packaging continually seeks ways to reduce its environmental footprint. Efforts include participation in Teracycle, the reuse of shipping boxes, reduction in the use of and recycling of paper, the encouragement of carpooling, and the shutting down of computers and equipment each night to conserve energy consumption.
For more information, contact World Wide Packaging LLC. At 15 Vreeland Road, Suite 4, Florham Park, NJ 07932; phone: 973-805-6500 or toll-free 1-800-950-0390; fax: 973-805-6510; or visit the company's website at www.wwpinc.com.
Client: World Wide Packaging
Contact: Christopher Dale
Turchette Agency
(973) 227-8080 ext. 16
cdale@turchette.com

Holly Benda
World Wide Packaging
(973) 805-6500
holly@wwpinc.com
Director of Public Relations & Communications
Upload Press Release file: