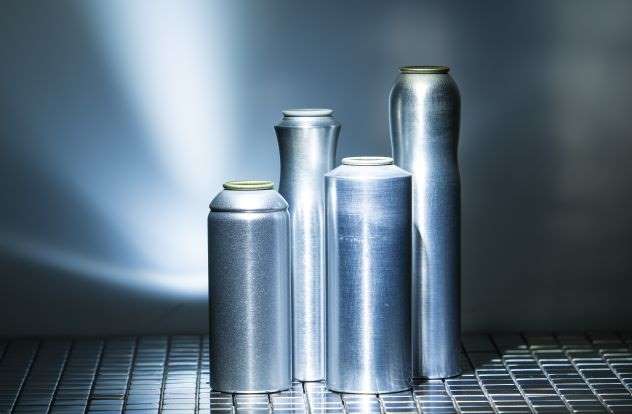 Press Packagingconnections
The International Organization of Aluminum Aerosol Container Manufacturers (AEROBAL) reports that the global shipments of its members fell by 3.9 percent to around 2.9 billion units in the first half of 2021. The year-on-year decline was rather moderate, as global demand was still very lively in the first quarter of 2020. The corona pandemic only unfolded its full impact on the market in the course of the second quarter of 2020.
Sales of deodorants and hairsprays - like the entire cosmetics sector - suffered in the first half of 2021 because consumers went out less due to the pandemic. That is why the deliveries to the deodorant market, which is dominant in terms of volume and which accounts for around 60 percent of all deliveries in the industry, fell by almost 2 percent. Deliveries to the hairspray segment were hit much harder and fell by a clear double-digit rate.
The development in the food sector was very positive, as consumers spent more time at home and cooked the meals themselves. Worldwide deliveries to this market, which currently still has to be described as a niche market, increased by almost 50 percent. The pandemic-related special boom in disinfectants in 2020 did not continue in 2021 because these products are more likely to be packed in plastic bottles.
Exploding raw material prices are a cause for concern
"The AEROBAL members are very concerned about the skyrocketing aluminum price. The manufacturers who now have to stock up on metal are in a mess. Other relevant cost drivers are paints, printing inks, cardboard packaging, energy, wages and transport services. The pressure comes from all sides at the same time," says AEROBAL President Leopold Werdich.
While supply bottlenecks have already been reported in other industries due to the tense situation on the raw material markets, the supply chains in the aluminum aerosol can industry have so far been stable. However, nervousness also increases here.
Bottleneck scrap availability
The topic of sustainability and decarbonization is still at the top of the agenda in the aluminum aerosol can industry. In particular, customers' requests to use recycled material in aluminum aerosol cans represents a major challenge for manufacturers due to the limited availability of scrap which meets with a high demand at the same time.
The general mood in the industry is subdued due to the extreme cost burden, even if the current demand is quite satisfactory. A sustainable upturn is not expected until 2022.
 
Sustainability at Aluminium Deutschland
Gregor Spengler
Head of Packaging-Recycling-Sustainability at the German Aluminium Association
aerobal@aluinfo.de
+49 211 4796-144