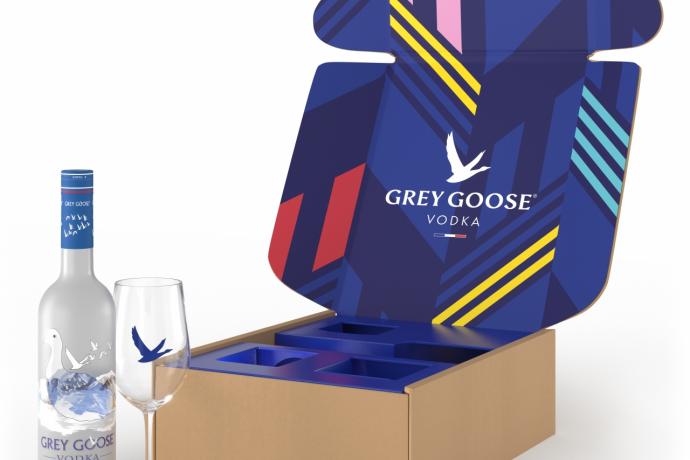 Available soon, exclusively from Amazon, the new premium gifting from GREY GOOSE® vodka and MARTINI® Non-Alcoholic aperitivo, can be shipped to online shoppers without any need for additional packaging.
The packs, ideal for those looking for Christmas treats that are kinder to the planet, are made entirely from cardboard certified by the Forest Stewardship Council (FSC) and feature beautiful interior designs, adding to the thrill of opening these special gifts.
Part of an ongoing sustainability commitment to become the most environmentally responsible global spirits company, the move by Bacardi comes in a year when online spirits sales have sky-rocketed. In the UK for example, this market has grown +140% in the last six monthsi and two thirds are expected to purchase their festive gifts onlineii.
As the first spirits company to introduce these lighter, reduced-waste packs – which are rolling out soon on Amazon across the UK, Germany, France and Italy - Bacardi is taking care to protect the environment at the same time as accelerating its e-commerce business.
Richard Cullen, Digital Transformation and Innovation Director for Bacardi, Western Europe, Australia and New Zealand, said: "People are thinking about Christmas earlier than ever this year, and after a challenging time, we're predicting a big increase in people buying our premium drinks like GREY GOOSE vodka, BOMBAY SAPPHIRE gin, MARTINI non-alcoholic aperitivos and BACARDÍ aged rums, as a treat for others and themselves. Add the fact that online spirits sales and interest in at-home cocktail making have both soared in the last six months, and it's clear that this will be a gifting season like no other for Bacardi.
"We're primed and ready for the clicks, working hard with all our e-commerce partners to offer fantastic gifts and seamless buying experiences online. With our GREY GOOSE and MARTINI Amazon gift packs, we are particularly proud to be going the extra mile, offering a greener solution for eco-conscious buyers."
Online hunters who are looking for premium gifts with greener delivery this year, can select from the GREY GOOSE original vodka (70cl) gift pack; a crafted vodka of unparalleled quality made using only the finest French ingredient, accompanied by beautifully branded glass perfect to make the GREY GOOSE Le Grand Fizz cocktail; or MARTINI Non-Alcoholic Aperitivo Vibrante and Floreale Dual Set (2 x 75cl), a non-alcoholic aperitivo that is a masterful blend of natural botanicals to create a fruity aperitivo that is characteristically MARTINI. Both are available soon on Amazon.co.uk, .fr and .de, while the MARTINI Non-Alcoholic gift pack will be available soon on Amazon.it.
Bacardi is committed to doing the right thing for the environment. Globally the company's production sites find a second life for more than 99% of all their waste materials and Bacardi has made a pledge to be 100% plastic-free by 2030.