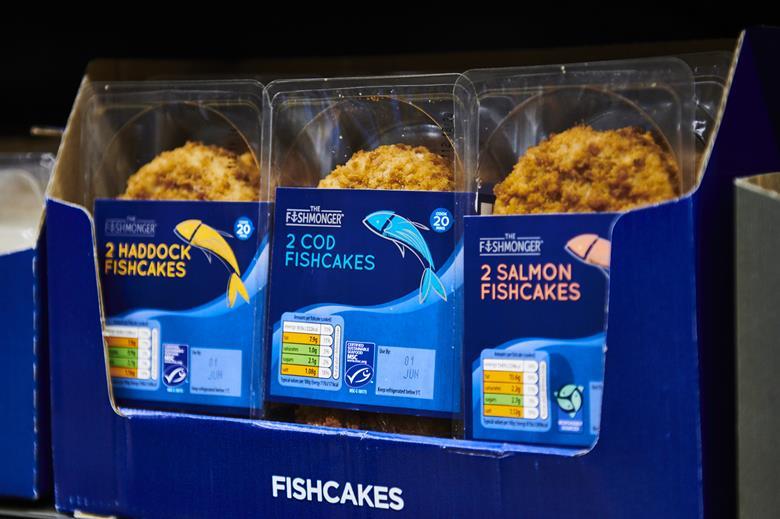 The new packaging is recycled from waste plastic collected by communities in coastal areas across the world. The move will prevent a claimed 76 tonnes of plastic entering the ocean each year, equivalent to three million bottles.
Produced by Sharpak, part of Groupe Guillin, and supplied by Bantam Materials, the so-called "prevented ocean plastic" is said to be of fully traceable provenance.
Aldi is one of a number of supermarkets to have introduced packaging recycled from ocean-bound plastic waste. Last year, Lidl launched fresh fish packaging partly made by recycling plastic waste collected from beaches in southeast Asia. Waitrose this week said it would use prevented ocean plastic, also supplied by Bantam, for 71 products ranging from fruit & veg to 13 new ready meal lines.
Aldi has also reduced the size of its fishcake packaging, which will save a claimed further 32 tonnes of plastic annually, along with 23 tonnes of cardboard from its Specially Selected lines.
"These changes will see us use less packaging overall, and also repurpose plastic that could otherwise end up polluting our oceans," said Aldi UK plastics and packaging director Richard Gorman.
"This is the latest in a series of initiatives we are rolling out to reduce our environmental impact and offer our customers even more environmentally sustainable options when they shop at Aldi."
Bantam Materials director Raffi Schieir said: "We developed prevented ocean plastic to be part of the solution to ocean plastic pollution and are delighted to be working with Groupe Guillin and Aldi to provide customers with a better plastic choice."
Aldi last year pledged to halve the volume of plastic packaging it uses by 2025, a target that is set to see 74,000 tonnes of the material removed from products over the next four years.
The supermarket said today it was also on track to make all own-label packaging recyclable, reusable or compostable by 2022, and hit the same target for branded products by 2025.