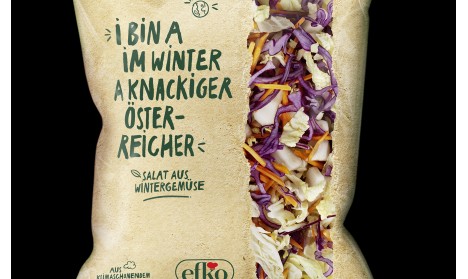 Grania Jain
The market for ultra-fresh salad and vegetable convenience products is growing rapidly. More and more Austrians are turning to the convenient ready-to-eat products. Very often, these foods are packaged in plastic for protection. 
Regional winter vegetables from sustainable outdoor cultivation
The crunchy, colorful vegetables in the salad mix come 100% from Austrian agriculture. Climate-friendly free-range cultivation and short transport routes make the product a regional seasonal alternative on the convenience shelf. The tasty winter mix, consisting of crunchy Chinese cabbage mixed with finely chopped red cabbage and carrots, brings simple and uncomplicated variety to any salad bowl.
Innovative, sustainable CO2-neutral packaging
Pre-cut and washed, the ingredients of the new efko salad are packed in a particularly environmentally friendly film. This is made largely from pine oil, a by-product of the paper industry. This sustainably conserves resources and demonstrably ensures 100 percent CO2 neutrality. "Our packaging is 100 percent recyclable and protects the food just as well as conventional packaging. With the new, innovative fresh bag for winter lettuce, we are consistently implementing the 'cradle to grave' principle, i.e. the entire path from a product's raw material to its disposal, in a sustainable manner," says Markus Pois, Managing Director of Vitana Salat- und Frischeservice LLC , based in Vienna, about the packaging innovation, which now packages the best Austrian quality in a completely natural way.
Vitana Salat- und Frischeservice LLC produces fresh and ultra-fresh salad and vegetable convenience products for food retailers and restaurants. With Vitana as a 100% subsidiary, efko Frischfrucht und Delikatessen LLC, based in Eferding (Upper Austria), has the leading Austrian producer of fresh convenience products in its own ranks. For efko, freshness is an important business segment. With the planned investment in a state-of-the-art production facility at Vitana, efko, as one of the largest domestic processors of fruit and vegetables, is creating space for sustainable growth in the area of fresh produce.
Practical size provides variety in the cold season
The new efko Winter Salad is available in grocery stores. The practical and sustainably produced 250 g bag is ideal for a quick and varied salad meal.
Attention-grabbing advertising as well
The launch of the new efko winter salad is supported by a broad-based advertising package. The goal: to reach many salad lovers of the new fresh product from efko on their preferred channels. The advertising for the efko winter salad was initiated with an extensive online campaign. As part of a cooperation with the well-known food blogger Cooking Catrin, she is attracting attention in the community with recipes and posts on her blog and social media channels. Consumers can find further information on the product and packaging on a dedicated promotion page, which was also launched in November 2020. The online activities will be rounded off with a competition on Facebook and Instagram in January 2021.
In addition, the Austria-wide poster campaign will start in January 2021. Here, the new salad product will be made palatable to Austrians on 16 sheet posters. Print ads and targeted media work in January complete the advertising mix. "Fresh Austrian vegetables from free-range cultivation packaged in an innovative CO2-neutral film is unique in this form. With this, we make it easier than ever for nutrition- and climate-conscious consumers to reach for a fresh salad," says Nina Brandtner, BA, Product Management efko.