Business Name:
APPLIED MARKET INFORMATION LTD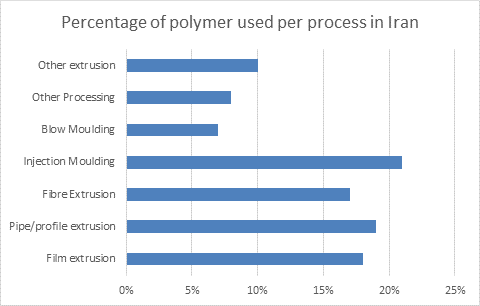 Capacity for 1 million + vehicles
Building and infrastructure account for 23% of polymer demand
Packaging projected to grow
Certain economic sanctions imposed on Iran were lifted in January 2016, opening the doors to trade and opportunity. Many companies were laying the ground-work for their expansions back in 2015. However, boasting large automotive, construction and rigid packaging markets, as well as significant sectors for other industry segments, together with a youthful population of over 80 million and improving GDP growth, the business opportunties for plastics processing in Iran remain substantial.
Iran has the second highest polymer demand in the region, at just over 3 million tonnes as well as the second largest market for engineering thermoplastics. Both of which are expected to expand following the lifting of economic sanctions. The automotive sector, whilst only consuming 2% of polymer demand in the country, accounts for 10% of GDP. Manufacturing approximately 1 million vehicles in 2015, which is anticipated to grow over the coming years, there is plenty of reason to believe that the plastics industry supporting the automotive market in Iran will expand.
Such positive forecast is the same for packaging. Rigid packaging accounts for just under a fifth of polymer demand. Consumer packaging has increased capacity in response to a growing trend towards organised retailing and supermarket shopping whilst industrial packaging is expected to grow in response to improving logistics to serve the retailing industry and the growth in polymer manufacturing.
Despite the potential of the Iranian plastics industry, discovering opportunities for investors outside of the country is a huge challenge. Information on the players in the industry is not readily available. Finding in-depth and comprehensive information to help you is both time consuming and difficult. AMI has just released its first, completely unique, Database of Plastics Processors in Iran, providing information on over 300 processing sites. With the lifting of economic sanctions this is the perfect time to explore the opportunities within the Iranian plastics industry. Comprised after hours of telephone interviews this database will provide address, contact and production information on moulders, extruders and compounders in Iran.