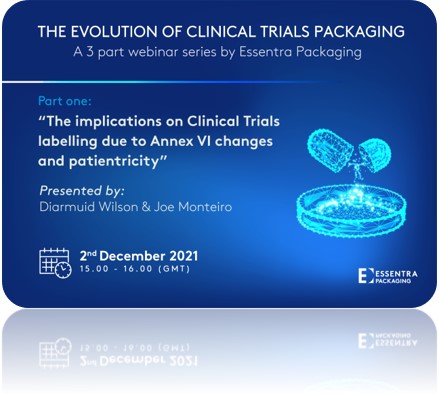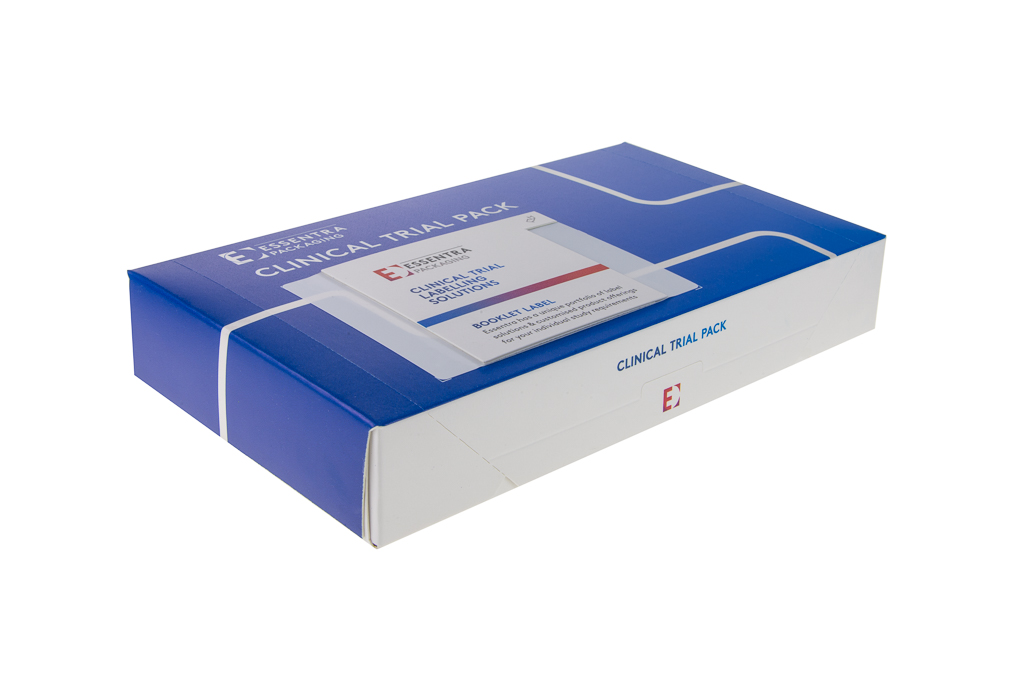 Essentra Packaging will host a free series of industry webinars to help packaging professionals find practical and effective solutions to the labelling of clinical trials, against the backdrop of complex regulatory change.
Titled, 'The implications on Clinical Trials labelling due to Annex VI changes and patientricity' the first webinar in the series takes place on 2nd December at 15:00 GMT with interested parties invited to register online for the event.
As well as highlighting ways of dealing with the new labelling demands required under Annex VI of thee Clinical Trials Regulation (Regulation (EU) No 536/2014), members of the Essentra Packaging team will provide guidance and advice to attendees around patientricity. Topics to be covered include direct to patient implications, market challenges including those presented from the pandemic, and what successful secondary packaging solutions exist to help improve patient safety.
"Annex VI will inevitably add more complexity to what is already a highly regulated sector and those involved in clinical trial labelling need solutions," said Diarmuid Wilson, Business Development Director UK & Ireland at Essentra Packaging.
"In what will be a highly informative, and approachable session our first webinar will aim to provide guidance to those across the pharmaceutical and clinical trials sector."
Essentra Packaging will also showcase a series of successful case studies during the event, showing how it has supported customers to implement effective clinical trial solutions. The 60-minute session will end with a Q&A session where attendees will have the ability to ask questions in relation to the regulation and requirements for packaging.
Those interested in attending the event should complete this registration form.
Notes to Editors
Amendments to Annex VI – relating to the reliability and robustness of labelled data generated in a clinical trial – will come into force on 31st January 2022, as part of thee Clinical Trials Regulation (Regulation (EU) No 536/2014). 
The Regulation harmonises the assessment and supervision processes for clinical trials throughout the EU, via a Clinical Trials Information System (CTIS).
The goal of the Clinical Trials Regulation is to create an environment that is favourable to conducting clinical trials in the EU, with the highest standards of safety for participants and increased transparency of trial information. 
ABOUT ESSENTRA PACKAGING
At Essentra Packaging we manufacture and deliver pharmaceutical and beauty packaging solutions that today's leading brands demand.
From regulatory compliant folded cartons, leaflets, foils and labels to the latest anti-counterfeiting security technologies, serialisation, and bespoke clinical trials packs, we pride ourselves in having the flexibility to create packaging solutions quickly.
Our global footprint and single standard quality system ensure products are always produced to the highest standards, and provide the reliability, agility and knowledge to understand and meet our customers' needs at a local level.
With sustainability and innovation central to our product development, our many years of experience and long-term partnership approach delivers packaging solutions that protect and enhance our customers' products, whilst maximising supply chain efficiencies and reducing their environmental impact.
ESSENTRA PACKAGING
Emma Drake
Marketing Manager
EmmaDrake@essentra.com
+44 (0)1332 293939