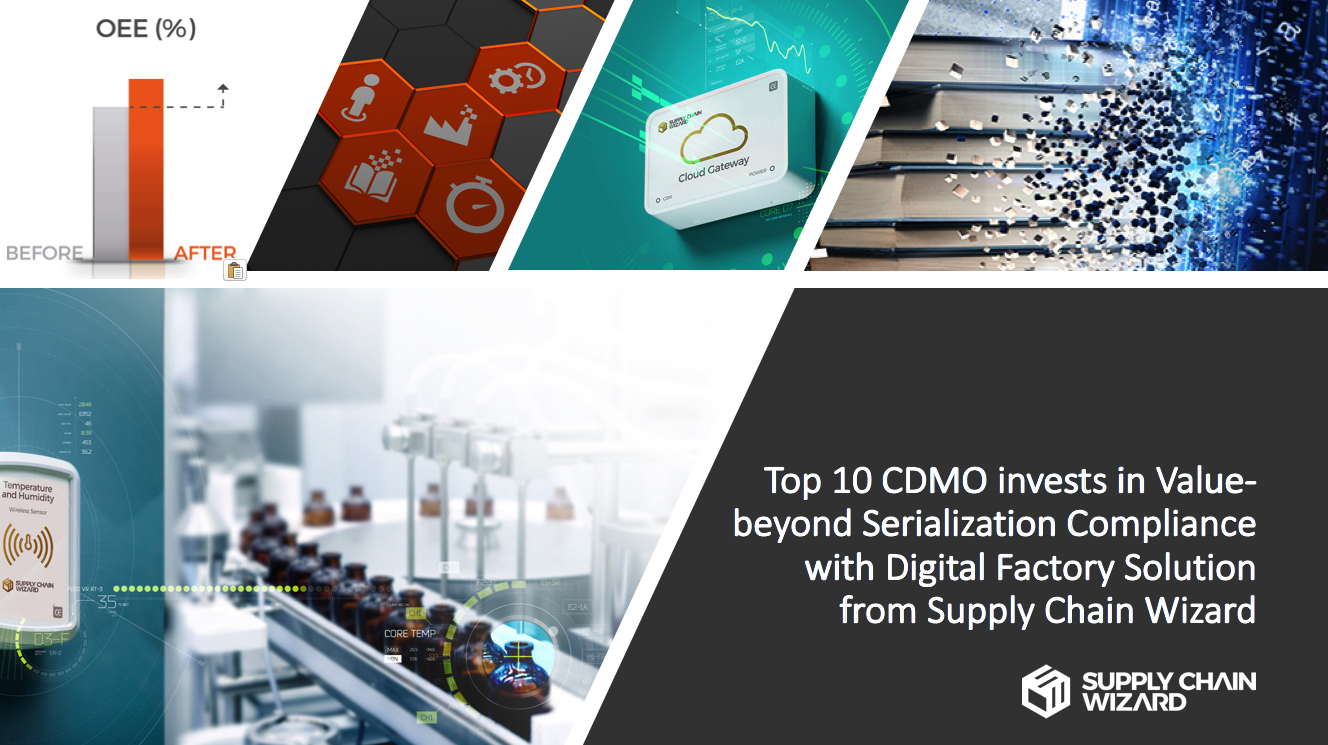 Leading Contract Manufacturer implements SCW's OEE Tracker solution to improve efficiency through data-driven decisionmaking.
Princeton, NJ –A top-ten Contract Development and Manufacturing Organization (CDMO)has contracted withSupply Chain Wizard (SCW) – a leading full-service global consulting & digital solutions firm specializing in serialization andtraceability, supply chain strategy and digitaltransformation programs – to implement SCW's OEE Tracker,an analytics-basedIoT cloud solutionthatimproves overall equipmenteffectiveness(OEE) forpharmaceutical packaging and manufacturing lines in a cost-effective, easy-to-deploy fashion.
The leading CDMO, which offers solutions spanning the entire development and manufacturing life cycle servinghundreds of pharma and biotech companies of all sizes around the world,conducted a thorough evaluation and competitive pilot process before deciding to initiate SCW's OEE Tracker at two facilitiesin North America– comprisingboth manufacturing and packaging lines. Implementation at other sites is plannedfor the near future.
The lineefficiency monitoring & analytics solution comes on the heels of the CDMO installing and implementing a system-wide serialization platform for compliance with upcoming Track & Trace mandates, primarily in the US and EU. As a leading contract manufacturerwith a global network of more than two dozen facilities and offices that, the CDMOis positioning itself not only for timely compliance, but also for future digital transformation to set itself apart amid ever-evolving customer demands for cost efficiency, service and innovation.
Supply Chain Wizard's operator-friendly OEE Tracker is a simple,cost-effective means of measuring and improving line efficiencybyuncovering and honing line-specific challenges and opportunities. Eager to realize additional ROI from its sizable serialization investment and mitigate anticipated efficiency losses, the CDMObegan implementation of the OEE tracker via a pilot programin 2017.
"The key to OEE improvement is the digitization of manual data collection methods, along with the utilization of data sharing and reporting tools," explained Evren Ozkaya, CEO of Supply Chain Wizard. "Sharing these digitized insights easilywithin and across the manufacturing site network, combined with advanced analytics and decision support capabilities sets a solid foundation for digital factory transformation for improved efficiency, higher capacity, lower risk and faster time to market."
Essentially, Supply Chain Wizard's OEE Tracker tool offers a replacement for the Excel files and manual recordkeeping still prevalent on many production sites.Productivity is greatly enhanced by relieving managers oflaborious data gathering, reporting and analysisby digitally exposing root causes of down times. For example, site managerscan use OEE Tracker to encourage regular meetings with production teams regarding live results or exceptions (i.e., deviations from standards performance metrics); compare line and site performance; visualize key performance indicators, and track work orders and schedules. In doing so, they support operators and supervisors in targeting the real root causes of bottlenecks and downtime, significantly increasing overall efficiency.
"Supply Chain Wizard's OEE Tracker is a smart tool that helps improve communication between our line operators, engineers and managers -- and allows us to make data-driven decisions that enhance efficiency and productivity," said the CDMO's Head of Global Engineering & Technology."We view implementation of the OEE Tracker as a first step toward the journey of full digital factory transformation, and appreciate the technology and thought partnership of Supply Chain Wizard."
###
About Supply Chain Wizard
Supply Chain Wizard, LLC is a management consulting, digital innovation and solutions firm, and a global leader specializing in serialization and traceability, supply chain strategy and operational transformation programs with presence in North America, Latin America, Europe, Middle East and Asia. Supply Chain Wizard partners with organizations in designing, developing and implementing digital solutions using state-of-the-art technologies such as Internet-of-Things (IoT), Artificial Intelligence (AI), Machine Learning (ML) and Blockchain through its Cloud Platform to enable end-to-end Digital Supply Chain Transformations in Life Sciences & Pharmaceutical industry. Serving some of the world's largest pharmaceutical manufacturers, contract manufacturers and packagers, Supply Chain Wizard is dedicated to adding sustainable value through data-driven decision making from Shop Floor to Executive Boardrooms.
Supply Chain Wizard is headquartered in Princeton, NJ, with additional offices in Germany, Netherlands, Turkey and India. For more information, please visit www.supplychainwizard.com.
Upload Press Release file: