Business Name:
Authentication Solution Providers'Association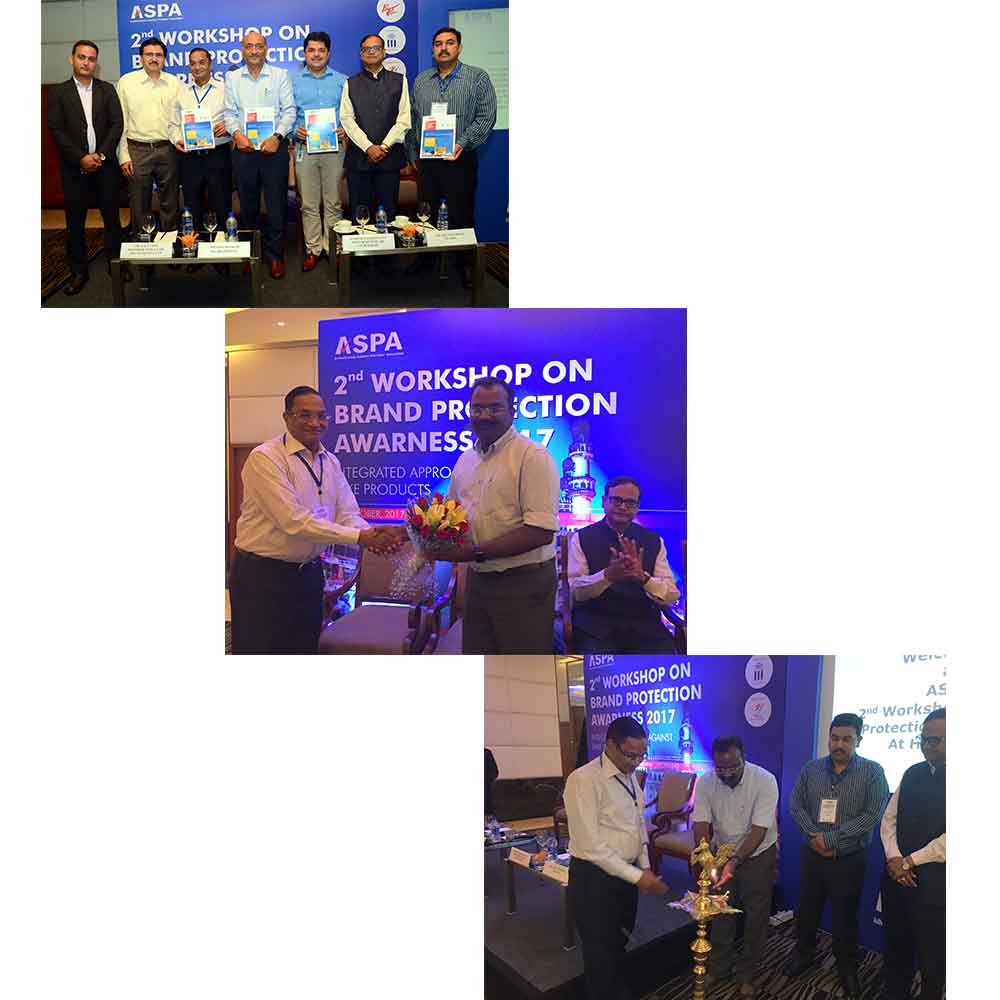 ASPA organizing series of workshop for professional involved in revenue protection, supply chain management, quality & product packaging providing them overview & importance of authentication solutions in fighting fakes.
Generate awareness amongst stakeholders for need of fighting counterfeiting specially in Auto, Pharma, FMCG, Excise Revenue, Electronics and etc.
Hyderabad, October 10, 2017: The Authentication Solution Providers' Association (ASPA) is the world's first and only self-regulated non-profit organization that represents the entire authentication solutions industry globally. ASPA extended and organized its 2 nd workshop on Brand Protection Awareness at Hyderabad, Telangana on 5 th October 2017.
On this occasion, Uday Bhaskar, Director General, Pharmexcil said, "A lot to be done towards anti-counterfeiting measures as important tool in fighting fakes and that can be done with awareness. On the other hand, authentication industry also needs to address problem, challenges & hurdles for small SME brand owners.". Please feel free to edit it according to your convenience".
At this occasion, U. K. Gupta, President, ASPA said, "As counterfeiting becoming a menace, the key is the awareness. At ASPA, one of our main aim is to develop and strengthen industry's capacity to combat product counterfeits through evidence- based research, education and outreach. Many of our brand-owner partners shared with us their hurdles in selecting & finding brand protection solutions. To help meet this need, it's been more than two years, we are running the campaign "Make Sure India" across the country for brand owners and consumers educating them about this serious issue. The problem in India is not limited to a few cities or regions, and henceforth, we have designed this campaign which will spread across the country."
In extension to our campaign, we have recently also announced series of workshop for professional involved in tax revenues, supply chain management, quality & productpackaging providing them information on importance of authentication solutions in fighting fakes. Our industry can help government and brands in plugging these loopholes. A brand owner that employs an authentication solution is likely to increase his business by cutting down the counterfeiter's share. This increased business will consequently bring in in more revenue to the exchequer in form of higher collection of taxes and duties.
Speaking at the occasion, Mr. Arun Agarwal, VP, ASPA said, "Counterfeiting is serious issue and we have come together to take up this challenge. Not only its impacts industries, businesses, government revenue, but also, impact health and life to the maximum extent. We as a body pledge to spread Awareness to the Brand owner and the mass to fight FAKE." As industry representative, Indian industry, especially MSME sector has tremendous potential for growth and opportunity in exports and expected to increase up to 50% by 2017. It's critical for MSMEs to step up their innovation drive to gain a larger share of the global markets and become more responsive to the emerging global market trends. For this, they need to understand the integrity of brand protection & Intellectual Property Rights (IPR).
The event features a day conference and an extensive display area, with more than 50 delegates and leading anti-counterfeiting solutions companies demonstrated their latest offerings and discussing the latest generation authentication solutions.
Highlights - A compact display area near the conference also cover a host of new age digital and physical authentication solutions such as Tamper Seal, Tamper Evident Label, Security Hologram, Security Label, Tax Stamps, Void Tamper Films, Track and Trace Solutions, Anti-Copying Solutions, IT based Authentication solutions, Holographic Shrink Sleeves, RFID Labels, Security papers and fibres, Taggants among other viable solutions for the Indian market.
Upload Press Release file: