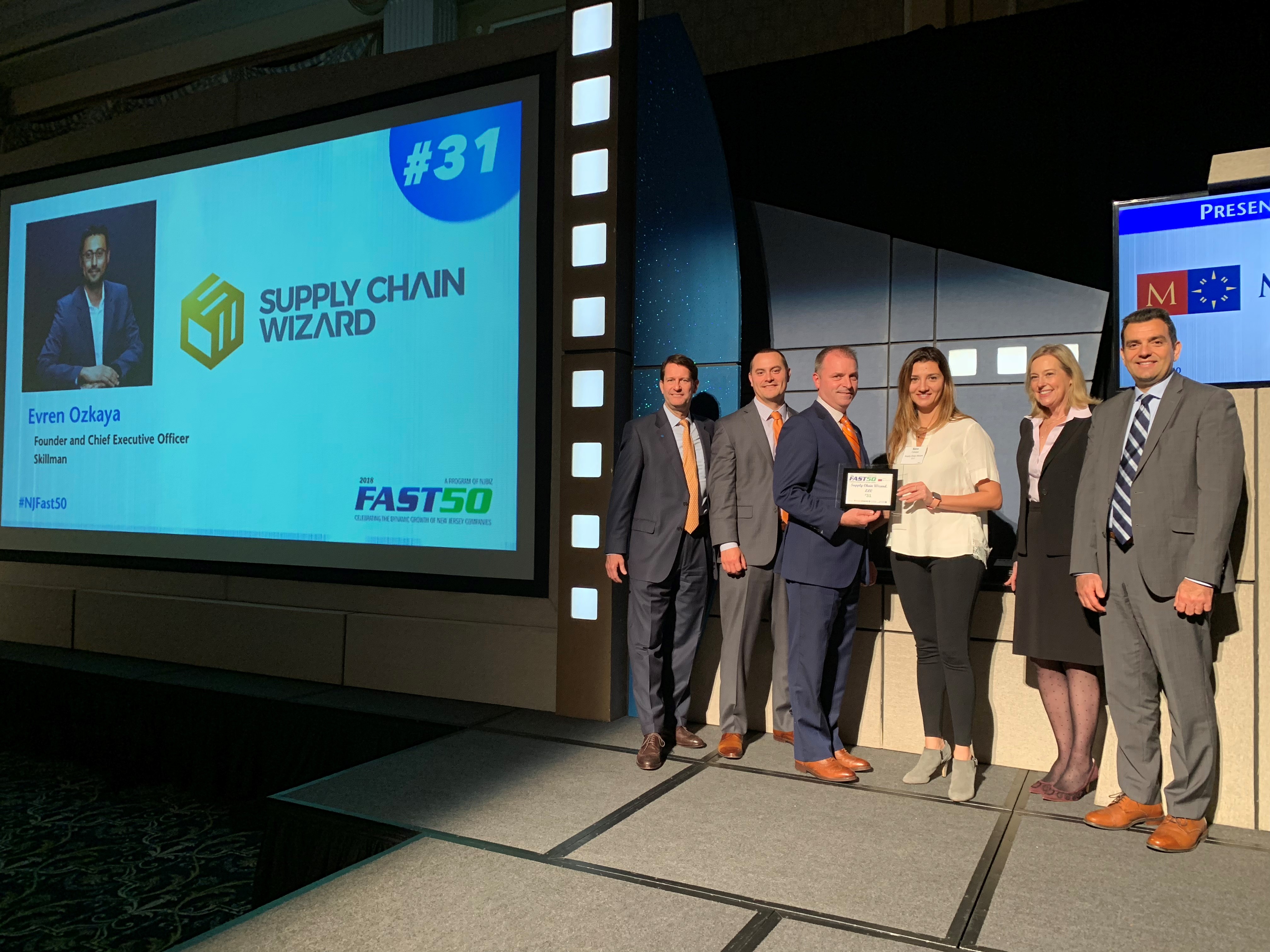 Princeton-based company serves global pharmaceutical industry with beyond-compliance serialization initiatives and efficiency-minded digitization solutions.
Princeton, NJ – Supply Chain Wizard – a leading full-service global consulting firm specializing in serialization and traceability, as well as supply chain strategy and operational transformation programs – has been named among New Jersey's Fastest Growing Companies by NJBIZ Magazine. For Supply Chain Wizard, whose customers include pharmaceutical brand owners, contract manufacturers & packagers, wholesalers and third- party logistics providers, the recognition comes as the company shifts focus from compliance-driven serialization and track & trace initiatives to longer-term, comprehensive digital solutions in a post-serialization pharma landscape.
NJBIZ Magazine's annual "NJ Fast 50" list of Top 50 Fastest Growing Companies honors New Jersey's most dynamic businesses who progressively contribute to the success of the state's economic growth and stability. For Supply Chain Wizard, the recognition is particularly significant given the states' deep roots in the pharmaceuticals sector, with several major drug manufacturers and packagers operating facilities in NJ. Headquartered in Princeton, Supply Chain Wizard has a global reach with satellite hubs in Germany, India, Turkey and The Netherlands, and consultants stationed around the world.
Though not yet five years old, Supply Chain Wizard has positioned itself at the forefront of two distinct waves in the pharmaceuticals industry. The first major push involved the industry's efforts to implement sector-wide serialization initiatives for improved product tracking and security from counterfeiting. As major markets like the United States and European Union underwent mandatory transformations leading up to regulatory enactments (November 2018 in the US; February 2019 in the EU), Supply Chain Wizard made its name providing supplementary solutions that utilized the troves of data generated by track & 10:36 AM 11/21/2018trace systems. Exemplified by groundbreaking solutions like its Overall Equipment Effectiveness (OEE) Tracker, the result was real-time, data-driven decisions that helped pharma industry players improve production efficiency and business practices.
With serialization mandates approaching, and therefore most solutions in place, Supply Chain Wizard has largely shifted focus to offering beyond-compliance strategies that, while continuing to utilize the valuable metrics provided by serialization solutions, expand further to include other aspects of manufacturing and supply chain management. In addition to OEE Tracker, the company's suite of Digital Factory initiatives now include solutions to improve labor tracking, production scheduling and recordkeeping & reporting, as well as consultative services spanning Industry 4.0 initiatives like Internet of Things (IoT) incorporation, artificial intelligence (AI), machine learning (ML) and blockchain-based systems.
"Supply Chain Wizard helps our customers gain exposure to the solutions and techniques involved in transforming traditional production plants into digital factories," said Evren Ozkaya, CEO of Supply Chain Wizard. "It's a means of harnessing technology to strengthen operations, improve efficiency and productivity, and ultimately benefit pharmaceutical patients by ensuring a safer and more expedient supply of pharmaceutical products."
###
About Supply Chain Wizard
Supply Chain Wizard is a management consulting, digital innovation and solutions firm, and a global leader specializing in serialization and traceability, supply chain strategy and operational transformation programs with presence in North America, Latin America, Europe, Middle East and Asia. Supply Chain Wizard partners with organizations in designing, developing and implementing digital solutions using state-of-the-art technologies such as Internet-of-Things (IoT), Artificial Intelligence (AI), Machine Learning (ML) and Blockchain through its Cloud Platform to enable end-to-end Digital Supply Chain Transformations in the Life Sciences & Pharmaceuticals industry.
Serving some of the world's largest pharmaceutical manufacturers, contract manufacturers and packagers, Supply Chain Wizard is dedicated to adding sustainable value through data- driven decision making from shop floor to executive boardrooms. Supply Chain Wizard is headquartered in Princeton, NJ, with additional offices in Germany, Netherlands, Turkey and India.
Upload Press Release file: