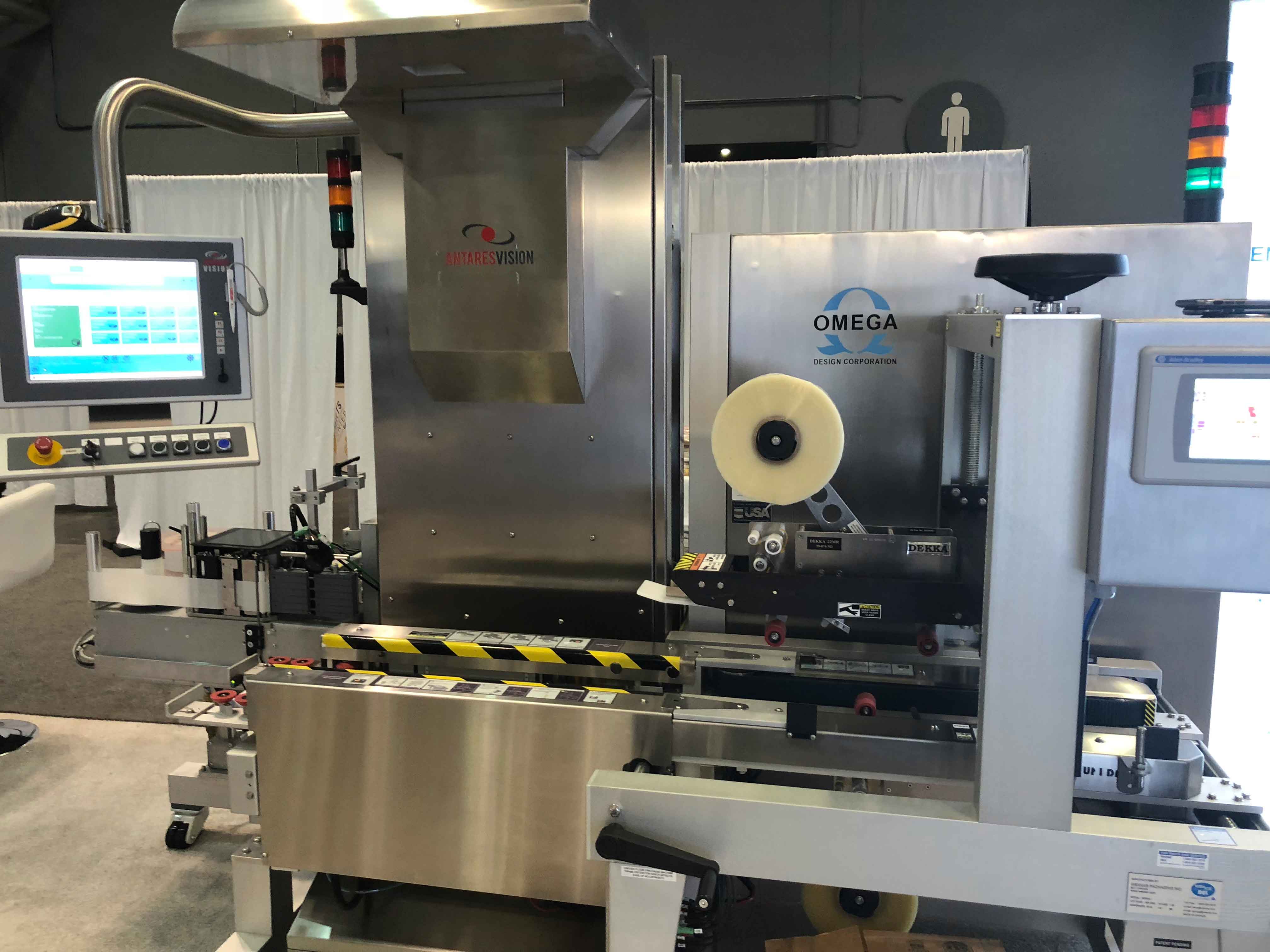 Moorestown, NJ –Antares Vision, the world's leading provider of serialization-based track and trace solutions for the pharmaceutical industry, and manufacturer of precision inspection machines for 100% production line verification of pharma products, showcased its Matrix Station Top-view aggregation unit alongside Omega Design's Intelli-Pac case packer at INTERPHEX NYC Booth #2571. Working together, the machines represent an ideal semi-automatic system for fast, efficient serialized case aggregation.
As demonstrated, Antares customers gain the benefit of increased line speed, accuracy and efficiency when the two modules are combined. The process begins with the Antares unit, designed to maximize productivity in manual packaging operations. The matrix station performs a reading from the top of the Datamatrix codes of cartons as they are fit into a case. Equipped with a camera system and integrated LED lighting, the vision head reads each layer as the case is composed. Based on the selected recipe, the vision head automatically adjusts in height in a range of 400mm (case depth). The ergonomic unit also has the option to be placed on wheels.
Meanwhile, Omega Design Corp.'s Intelli-Pac end-of-line case packing and aggregation solution automates the tedious tasks of case forming, labeling and taping – increasing line speeds while an operator loads and aggregates the case. Standard features include an integrated semi-auto case former and case taper, a domino corner wrap case labeler with Zebra printer, an overhead layer inspection camera bracket, and touchscreen HMI.
When set up to work together, the Intelli-Pac, with integrated fail-safe logic, prevents an operator from sealing a case until the Antares software approves it -- a security feature which greatly improves the integrity of the system. The Intelli-Pac can be fitted to work with customers' existing machines, or supplied alongside a new Antares system.
"The value of integrating these two systems, including the significantly increased line speeds, was clearly demonstrated at Interphex," said Andrew Pietrangelo, President, Antares Vision - North America, "as we were able to showcase a comprehensive, scalable and cost-effective semi-automatic serialized case aggregation system in action."
Upload Press Release file: