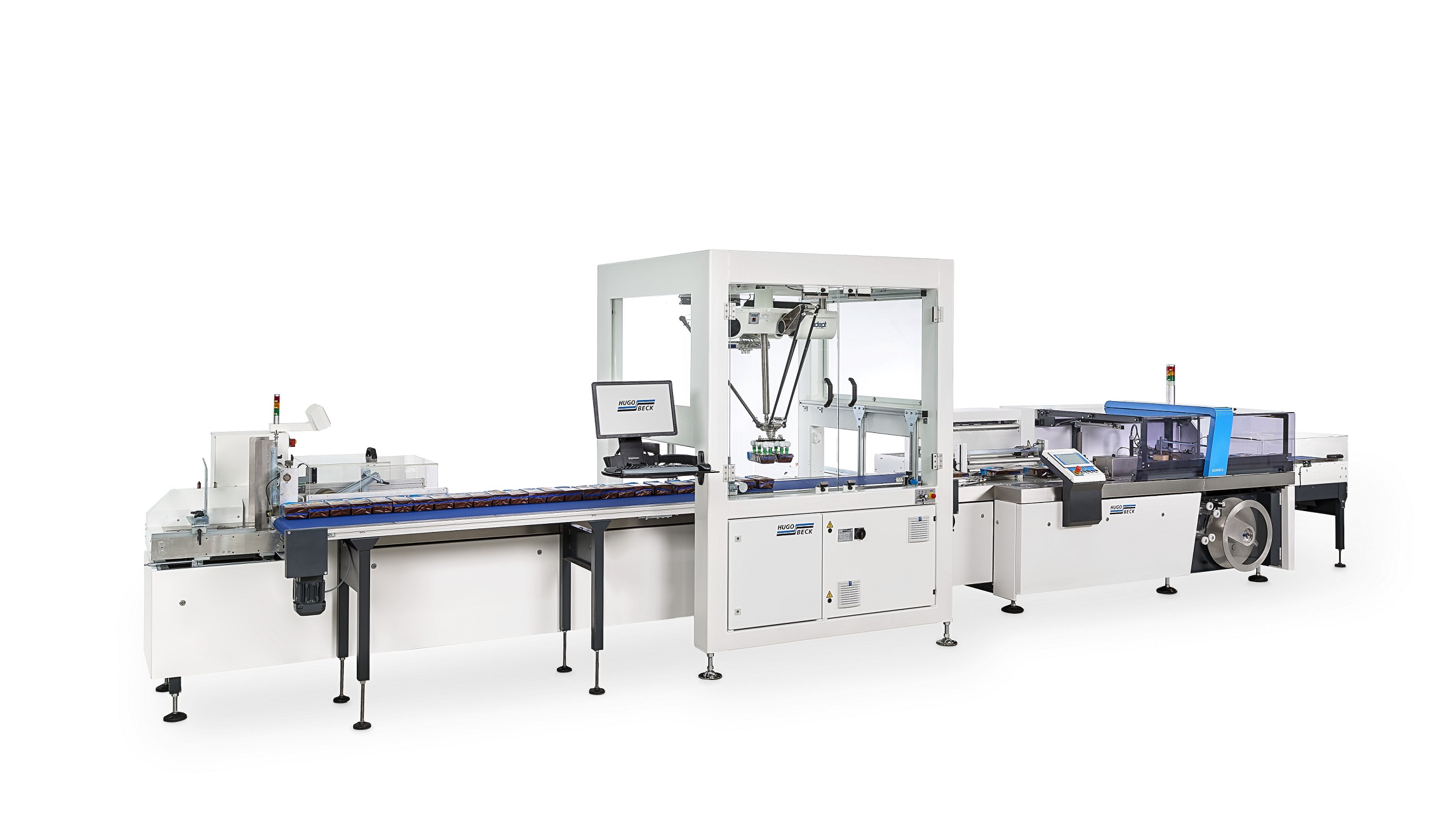 Dettingen/Erms, 5 th December 2018 – Hugo Beck, the world's leading manufacturer of horizontal flowpack, film packaging and post-print processing machines, is providing increased levels of automated robotic solutions to global copackers in order to streamline previously labour-intensive process for promotional packs.
Multi-pack, promotional retail deals such as "Buy 2, get 1 Free" are becoming increasingly important for competitive food manufacturers and require individual products to be packaged together in a variety of pack sizes and configurations – a process often carried out by hand – which is both labour intensive and time consuming.
Recently, a leading global copacker recognised the challenge and approached Hugo Beck to help automate its packing process. The solution needed to present various packing processes on a single display and for ease of use, all robots also needed to be controlled via the main packaging machine control system.
For this application Hugo Beck provided three servo X film packaging machines with each line having two parallel robots and shrink tunnel. Third-party robotics initially load the product onto the Hugo Beck packing line which visually checks that all biscuit boxes are correctly aligned on the conveyor. Once on the conveyor the two parallel robots pick up the biscuit boxes and group them into the desired configuration, ready to be fed into the film packaging machine.
The configuration is fully adjustable allowing both different groupings or stacking of products. After the biscuit boxes have been grouped they are then fed automatically into the shrink-wrapper and the multi-packing process is complete.
The customer was delighted with the Hugo Beck solution which was made significantly easier by only having to deal with a single project partner to deliver the entire line, from product pick-up to robot technology right up to the packaging machine.
"Co-packers and logistics providers demand a simple, effective and integrated solution that can adapt quickly to changing production demands", said Timo Kollmann, Hugo Beck's Sales Director.
"Flexibility is key for these applications and our machine control systems enable the packaging process and robots to change automatically to new products through the saved program functionality. This delivers a streamlined production process and optimised quality assurance through error-free automation".
About Hugo Beck:
Founded in 1955 and based in Dettingen/Erms near Stuttgart, Hugo Beck provides the most comprehensive manufacturing product range in the film packaging segment for flowpacks, poly bags and shrink packs in the world. With a focus on maximising automation, flexibility and availability, Hugo Beck's innovative packaging solutions are developed and produced by some 110 specialists at the company headquarters. Today, the family enterprise is represented all over the world by a network of contract partners and Hugo Beck machines are currently being used successfully across a wide range of industries, including pharmaceuticals, food, cosmetics, print and paper, textiles, glass and wood.
Hugo Beck's horizontal flowpack, film packaging and post-print processing machines operate in an output range of 3,000 to 18,000 cycles/hour. Flexibly deployable periphery modules are available for all machines, among them feeders and high-speed robot systems as a component of various automation solutions. In addition to providing series machines, Hugo Beck focuses on enabling customer-specific solutions. State-of-the-art in-house project planning and manufacturing processes are the prerequisite for being able to react flexibly to virtually all customer needs.
Upload Press Release file: