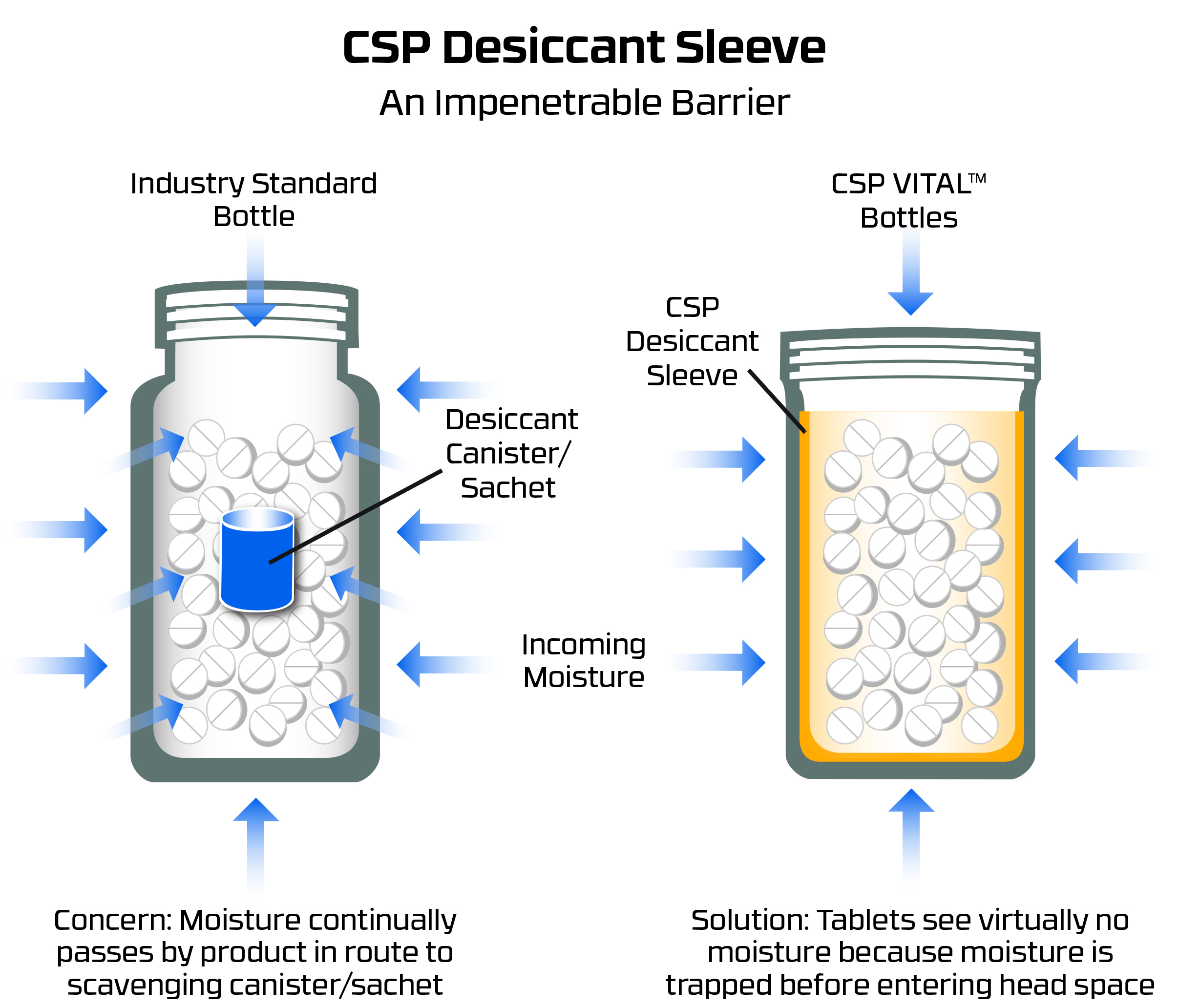 CSP Technologies Inc.FeaturesVITAL Portfolio of Desiccated-by-Design Containers at Vitafoods Asia 2018
Company also highlighted active packaging solutions that protect products from moisture and gases, including oxygen.
Auburn, AL – CSP Technologies Inc.,a leader in designing and producing packaging solutions that ensure product protection, enhance brand recognition and improve consumer experiences, showcased a variety of protective packaging solutions at Vitafoods Asia in Singapore from September 11-12. Located at Stand F26, CSP placed particularfocus on itsVITAL™ portfolio of desiccated-by-design containers, which incorporate the company's ACTIV-POLYMER™ technology to protect particularly sensitive food and supplement products.
CSP Technologies specializes in active packaging solutions to protect susceptible products in a variety of industries – including pharmaceuticals, food and nutritional supplements – from unwanted moisture and gases, including oxygen. Among other benefits, the result is packaging to ensure product integrity and extend Shelf Life in all ICH Climactic Zones including Zone IVb. Those attending the Vitafoods show will see how CSP's solutions are ideal for probiotics and other nutritional products.
For CSP Technologies, the star of the Vitafoods Asia show was itsVITAL™series, a collection of vials and bottles capable of satisfyingstringentproduct protection requirements. Available in a variety of sizes, the VITAL™portfolio consists of integrally desiccated flip-top vials and screw cap-compatible bottles that eliminate the need to add desiccant sachets or canisters.
CSP Technologies also exhibited ACTIV-FILM™ materials used in stick pack, foil pouch, and sachet configurations to scavenge moisture and/or oxygen. ACTIV-FILM™is also used inACTIV-BLISTER™solutions, which can be incorporated into a wide range of blister packaging formats.Developed to control the internal atmosphere – also known as headspace – of individual blister cavities, thistechnology allows for improved product stability and extended shelf-lifeby absorbing moisture and/or oxygen.
CSP Technologies also displayed its ACTIV-SEAL™ closure. ACTIV-SEAL™ provides optimized moisture and gas absorption capacity and uptake rates relative to more traditional solutions such as canisters or sachets. ACTIV-SEAL™ solutions contains a gas scavenging technology built directly into an induction-sealed, tamper-evident screw cap, assisting with product protection throughout shelf-life and during consumer use.
"CSP Technologies' advanced line of active packaging solutions align with our mission of ensuring product integrity and stability, as well asextending shelf life," said Chris Wong, Senior Director Sales and Marketing for ASPAC, CSP Technologies, Inc. "The VITAL™portfolio of products further supports these endeavors, and the benefits was on full display at Vitafoods Asia."
# # #
About CSP Technologies Inc.
CSP Technologies, Inc. is a global material science company providing innovative, highly engineered advanced packing solutions to protect sensitive products.
CSP Technologies, Inc. is a responsive, flexible partner committed to offering customers a single, reliable source for custom product design, development, and manufacturing. CSP has a proven track record of pioneering technological solutions that ensure product protection and enhance its customers' brand equity. Its product categories include vials, bottles,gas scavenging films, blisters, injection-molded components, and specialized packaging solutions.
CSP Technologies, Inc. has developed solutions and services to address packaging concerns in a variety of industries, including Pharma/OTC, Diagnostics, Industrial, and Food and Nutrition. For more information, call +1-334-887-8300, email cspinfo@csptechnologies.com or visit www.csptechnologies.com.
Upload Press Release file: