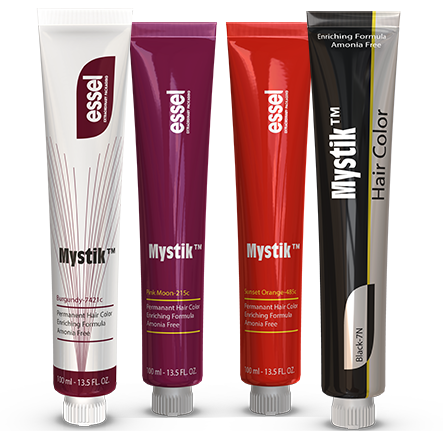 Mystik™ is a breakthrough innovation that culminated out of Essel's R&D efforts for years.
News:
With creative play of different new generation polymer layers combined with special alloys aluminum foil, Mystik™ provides complete protection to all the known hair colorant formulations as well as any other aggressive product formulations like Rx Pharma products including high atmospheric sensitive product like tomato ketchup throughout its designated shelf life. Mystik™ tubes have been created with unique shaped inner barrier multilayer membrane covering tube shoulder, neck and orifice. With yet another innovative closure with integrated wedge (patent applied) helps consumer to pierce the tube orifice membrane just before use. Post use, the piercing wedge can be concealed within the closure, to avoid contamination due to pre and post piercing action.
Essel's patented multilayer laminated tube body keeps the squeezed area collapsed together and restricts air suck back. All the innovations put together allow Mystik™ tube to retain product consistency and e_cacy till entire product is consumed. Mystik™tubes have gone through ESSEL's R&D stringent accelerated product stability tests and are now ready for customer validation and commercialization. Mystik™ Tubes can be decorated with innovative graphics incorporating touch and feel sensory. Product resistant Ink and varnishes allow decoration to last the tube shelf life.