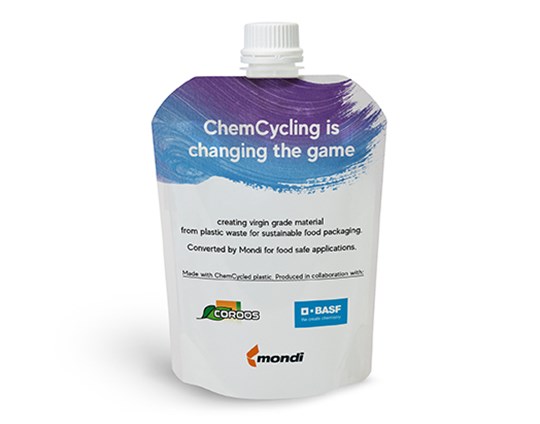 Creating flexible packaging from virgin grade material derived from plastic waste is now taking a step towards reality in a pilot project called ChemCycling
Designation:
Senior Communications Manager
Leading global packaging and paper group Mondi, in cooperation with chemical producer BASF and COROOS, one of the biggest European companies in the preservation of fruits, vegetables and pulses for premium A-brands and private label products, have cooperated on a state-of-the-art pilot project. Together they produced a stand-up pouch that is safe for food contact partly made with raw material which was derived from chemically recycled plastic. Until now, recycling plastic has chiefly been mechanical, limiting the scope of plastics that can be recycled and limiting the number of products that can be created with recycled material, in particular for the strict legal European regulations in place for food packaging.
Mondi Mondi believes that packaging should be sustainable by design, using paper where possible, and plastic when useful. For food protection and extending shelf life, plastic is often the best choice because of its barrier properties. These requirements make it difficult to use mechanically recycled plastic due to potential impurities and plastic flaws that can occur in the layers, limiting the applicability for food contact. "BASF is working on advancing the chemical recycling of plastic waste, because this will make it possible to process and reuse plastics that are currently difficult to recycle such as mixed plastics. This prototype packaging which is based on pyrolysis oil derived from waste plastic shows that the life cycle of consumer plastics, including multilayer packaging, could become a closed loop," explained Christoph Gahn, who is responsible for the polyamide business at BASF.