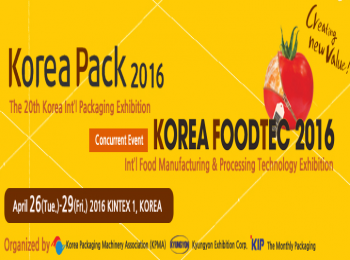 Korea Pack is an event dedicated to Packaging industry. In 2016, the 6th edition of this event is organized from 26 to 29 April at KINTEX (Korea International Exhibition Center), Korea. The event is organized by Korea Int'l Materials Handling & Logistics Exhibition (KOREA MAT 2016).
The event will be showcased in association with Int'l Food Manufacturing & Processing Technology Exhibition (KOREA FOODTEC 2016),:The 11th Cosmetic ∙ Pharmaceutical Machinery & Equipment Exhibition (COPHEX 2016), The 8th Korea Int'l Chemical Processing & Equipment Exhibition (KOREA CHEM 2016), The 10th Korea Int'l Laboratory & Analytical Equipment Exhibition (KOREA LAB 2016), The 6th Korea Int'l Pharmaceutical Exhibition (KOREA PHARM 2016), Korea Cosmetic Ingredient & Technology Exhibition (COSMETIC INSIDE KOREA).
The event will showcase Packaging Machinery , Packaging Automation Machinery , converting Machinery , Packaging Materials & Containers, Package Printing Machines, Packaging Inspection Equipment, Packaging Processing Machinery & Equipment, Package Design, Services, Food Processing Machinery, Logistics System & Equipment etc. The event will showcase Korea Star Awards, PAC 2016 (Packaging Association Conference), Food∙Pharmaceutical∙Cosmetic Plant Manager Discussion Meeting & Exhibitor New Technology Seminar, Symposium, Int'l Forum.
For more information visit: www.koreapack.org
Date:
Tuesday, April 26, 2016

to

Friday, April 29, 2016
Location:
KINTEX (Korea International Exhibition Center), Korea
---