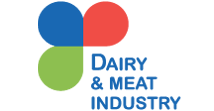 Dairy & Meat 2019 will be the 17th edition of the International exhibition of equipment and technologies for livestock farming, dairy and meat production.
The Dairy and Meat Industry international exhibition is the only specialised event in Russia that presents the complete cycle of industrial meat and dairy processing — from obtaining raw meat and milk, to the production of ready-for-sale products, including equipment, technology, certification, transportation, packaging and storage.
The exhibition includes a unique programme of conferences, seminars and master classes, which allows participants to obtain information from key figures in the dairy and meat industries, and to communicate with them face-to-face.
The Dairy and Meat Industry exhibition was launched in 2002. Since 2011 it has been held jointly with the Ingredients Russia exhibition.
The exhibition is held in cooperation with Russian Dairy Union (RDU) and Russian Meat Union, with the support of the Ministry of Agriculture of the Russian Federation and the Government of Moscow
---