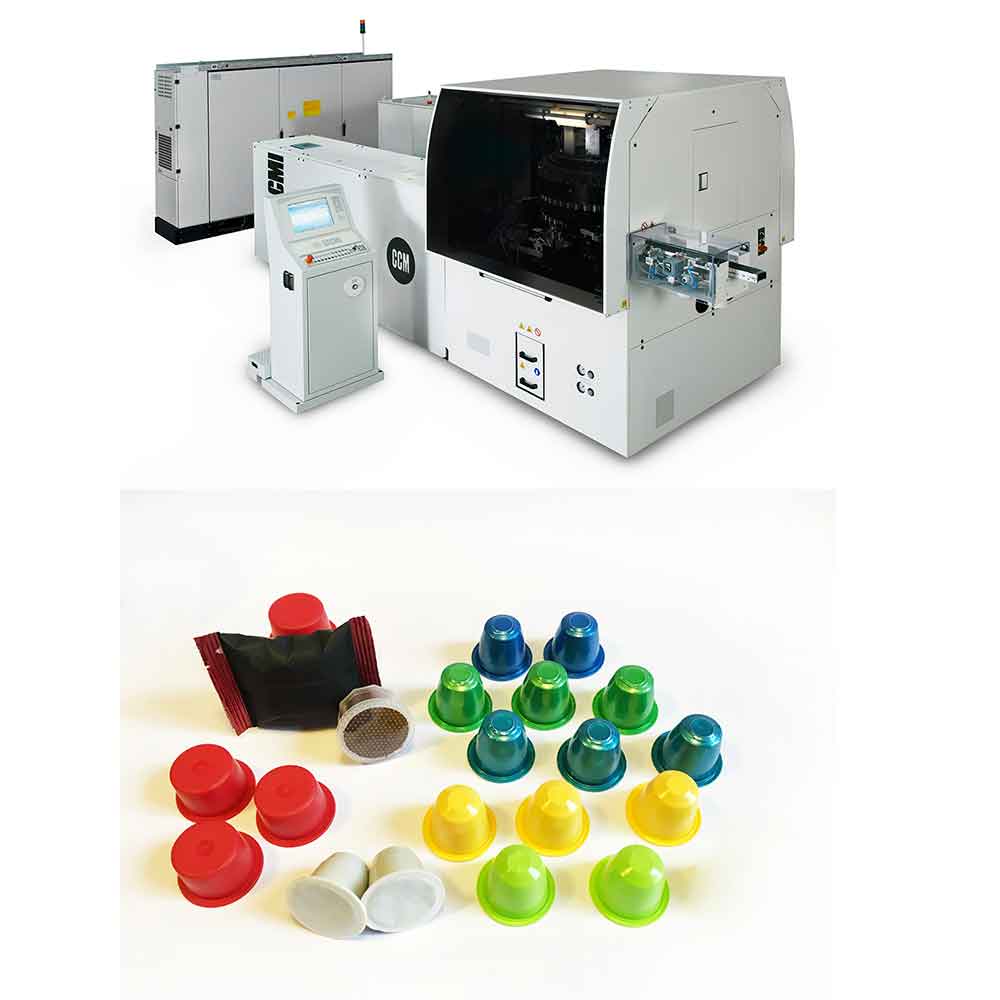 The 200 m 2 Sacmi stand at Interpack 2017 will be showcasing the very best technology available to the industry, from modular labellers to new Sacmi Packaging robots. Pride of place on the stand will go to the new CCM application for the manufacture of coffee pods and confectionery packaging (the stand will be shared with C&M Holding)
The biggest European trade fair dedicated to packaging solutions, not only for the food&beverage industry but also the pharmaceutical, confectionery and cosmetics sectors, Interpack 2017 is set to take place from 4 th to 10 th May. The event will see Sacmi technology play a starring role on our stand of nearly 200 m 2 (hall 4, stand 4G20), which will be shared with C&M Holding, the long-standing Sacmi brand that produces and markets confectionery packaging solutions.
The displayed solutions will, most importantly, include a new compression technology application for coffee pods. Developed in the wake of an ambitious R&D project that saw the Group work alongside leading industry players, the Sacmi solution transfers all the advantages of this technology (in which the Group leads the world in the plastic cap manufacturing field) to the promising, dynamic coffee pods sector. The latter produces and sells over 30 billion plastic pods worldwide every year and is set to play a key role in the growth of the entire industry between now and 2020.
The application exhibited at the fair is a 32-cavity CCM press. This offers the shortest cycle times in the industry (2.4-3.2 seconds as opposed to 3.8-5 seconds with injection technology) while the special plastic extrusion process which, with compression, occurs at lower temperatures, gives energy savings that can top 30%. Moreover, there is a complete guarantee of process repeatability as it is possible to manage each cavity independently and incorporate the advanced vision systems produced by the Group's Automation&Service Division. Applicable to both "proprietary" systems and the manufacture of compatible pods, the system ensures the lowest running costs on the market. Moreover, further innovative applications have recently been developed for the production of eco-compatible and self-seal pods.
From coffee pods to labelling solutions, a sector where Sacmi is right on the cutting edge thanks to modular solutions that combine reliability and productivity with maximum flexibility. For example, the renowned KUBE range (Sacmi's new modular labellers) offer markets unique versatility and have won over a growing number of key bottling customers, especially in the wine sector. KUBE "plug&play" technology lets manufacturers work efficiently across multiple labelling technologies and systems - hot, cold, self-adhesive - with just one machine and with minimum label and/or format changeover times.
A key player when it comes to automated handling and end-line solutions, Sacmi will, at Düsseldorf, be exhibiting a 4-axis pick&place "spider" robot with an integrated vision system for the insertion of flexible packages (doypack, pouches, pillow bags etc.) in American RSC boxes. This is just one of many applications belonging to the extensive robotized solutions range developed and marketed by Sacmi Packaging. This is a great example of a Sacmi Packaging case packing system for flexible packaging, with pick systems that use up to 4 pick&place robots per line, giving speeds of around 300 packs/min and outstanding efficiency. With these ever-more advanced solutions, Sacmi is leading the way, in all its core businesses, towards the new frontier of integrated robotics.
Upload Press Release file: