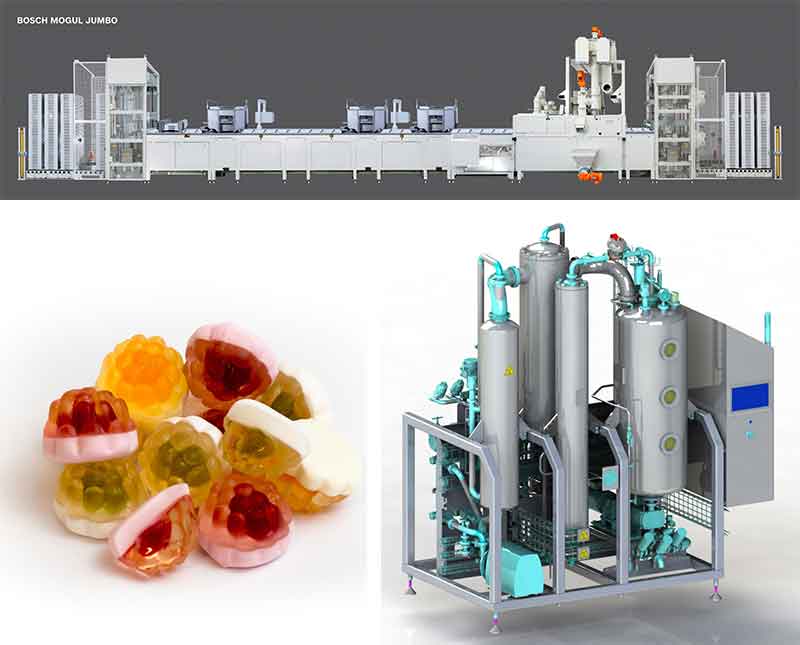 Hygienically designed system solution for easy cleaning
High-speed processing, depositing and packaging equipment
Single-source solutions provider offering increased levels of support
Düsseldorf, germany – for jelly producers looking for a hygienically designed complete system solution, bosch packaging technology will showcase its latest developments at interpack 2017. On display at booth a31, hall 6, will be the rapidsolver – the dissolving solution for depositing masses – the mogul plant for starch moulding, the drying room and the vertical form, fill and seal machine for high-speed packing of jelly products. With over 80 years of experience in the sector, bosch developed a new system solution to address key market requirements, such as hygienic operation, reduced energy consumption and product waste, high output within compact footprint and ease of use. The company's full portfolio for jellies includes technologies from raw material weighing and dosing to end-of-line packaging.
Martin tanner, director business development and marketing, product division food, bosch packaging technology, comments: ". As a single-source solutions provider, we make sure to offer best-in-class complete system solutions that are designed for easy cleaning, operating and maintenance. The latest solution to be shown at interpack has several patent-pending technologies to boost output and significantly enhance energy efficiency."
Effective processing and depositing of jelly candies
At interpack, bosch will debut its upgraded rapidsolver blk 2500 br for dissolving jelly masses, featuring a patent-pending heat recovery system used to preheat the mass, which offers up to 50 percent less energy consumption and reduced total cost of ownership (tco). In addition, energy-saving dissolving is achieved through the optimized design of the machine, allowing steam pressure to be reduced by 0.3 bar, further relieving thermal stress on the product and preserving its quality and taste. The machine's new hygienic design enables shorter cleaning times by eliminating areas that can trap food residues and cause contamination.
Minimizing downtime and enhancing food safety
Hygienic design is also in the heart of the mogul plant, the hlm 35 roto step (rs), and the drying room from our partner pinco sa – both made of stainless steel with multiple easy-to-clean features. The lateral movement of the depositor into the mogul's frame allows for the clean-in-place function, reducing the maintenance time and protecting the tray transport system. Hygienically designed sieve baskets further reinforce food safety efforts – a smooth surface and eliminated edges prevent accumulation of product residues and enhance gentle handling of jellies. With up to 35 trays per minute, the hlm 35 rs`s integrated roto step advancing system features individual tray movement for high-speed starch moulding of gummy products.
State-of-the-art hygienic packaging design
To meet the growing needs of confectionery manufacturers for high-speed, hygienically designed packaging equipment, bosch has extended its svc vertical form, fill and seal platform with the new svc 1820 bh bagger - specifically modified for the industry. It is built with a stainless steel frame, while its surfaces are rounded, tilted and have as few flat parts as possible to prevent food particles from being trapped. There are no corners or crevices, significantly reducing the possibility of bacterial build-up and facilitating cleaning.
The svc features industry 4.0 solutions for increased productivity and improved operator guidance: an integrated yamato multihead weigher, coupled with patent-pending sensor-controlled drop-time detection, allows to automatically adjust machine settings for product transfer – optimizing speed and enabling the highest possible output per product type. Additionally, the next generation human machine interface hmi 4.0 and an innovative format part management system reduce the risk of operator error by indicating whether all format parts are in place and match the selected bag configurations, allowing easy set-up and fast changeovers for increased uptime.
Customized services for all maintenance strategies
A comprehensive range of services to improve machine efficiency and productivity completes bosch's line competence. The focus is on solutions for preventive maintenance as well as services to eliminate unwanted machine conditions as quickly as possible. To this end, bosch provides a worldwide service network with qualified field service technicians who offer regional support. Thanks to digital services such as remote service, which is now supported by a visualization and chat feature, or the mobile version of the e-portal, which will be presented at interpack 2017, customers receive targeted support regardless of their location. Bosch will further showcase the versatile training portfolio of the bosch packaging academy. Apart from new assistance solutions, bosch will demonstrate virtual training concepts enabling manufacturers to acquire demand-oriented know-how for machine operation and maintenance. Bosch will also illustrate how preventive maintenance parts kits and tailor-made maintenance agreements help to proactively minimize unplanned downtime.